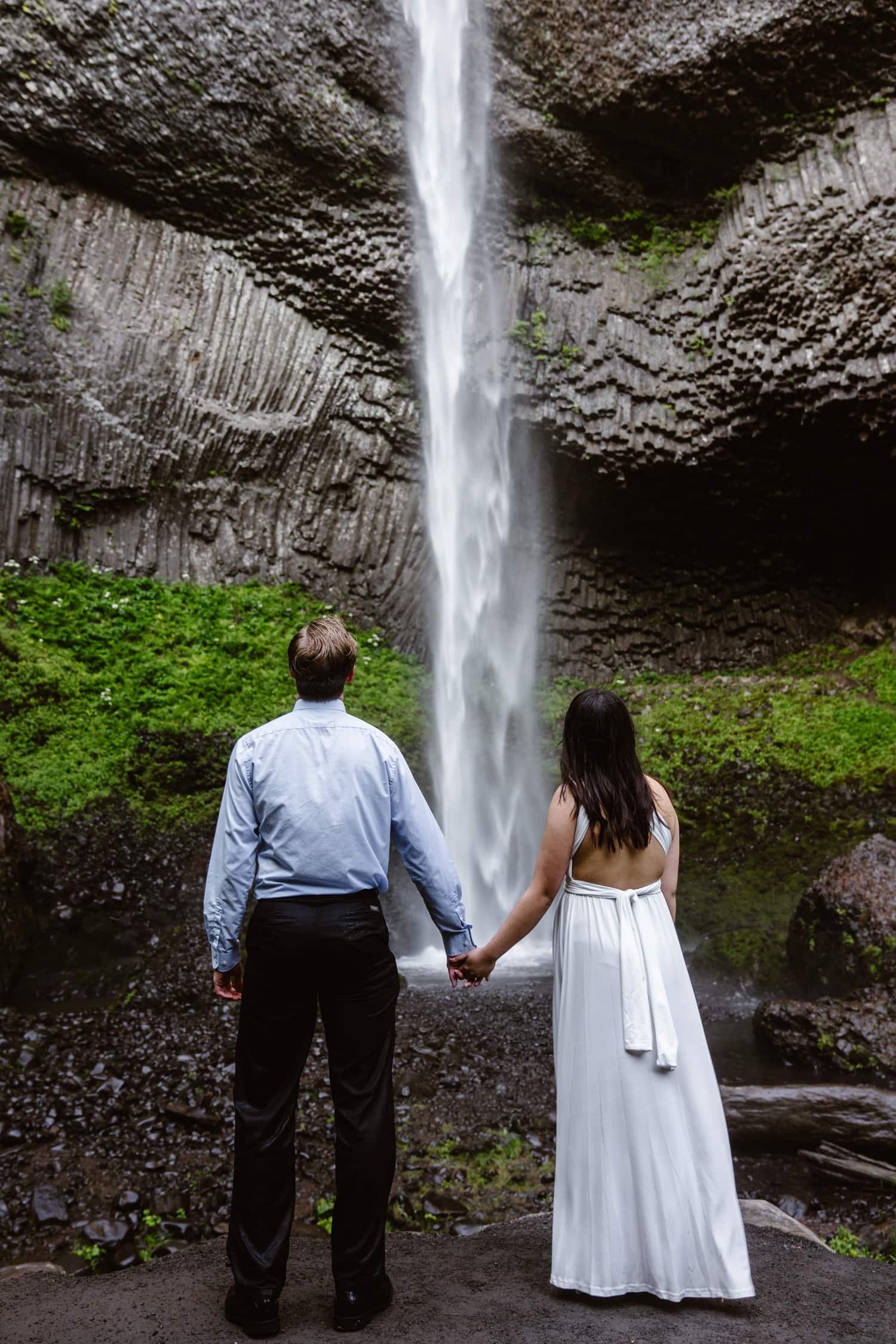 Best Places to Elope in Oregon
YOUR COMPLETE GUIDE FOR THE BEST PLACES TO ELOPE IN OREGON So, you've decided to elope, CONGRATS! Now is the fun part – deciding where you want to elope. Some people love the mountains of Colorad...
B
Y
Last Updated on February 17, 2021 by vowsandpeaks
YOUR COMPLETE GUIDE FOR THE BEST PLACES TO ELOPE IN OREGON
So, you've decided to elope, CONGRATS! Now is the fun part – deciding where you want to elope. Some people love the mountains of Colorado , while others prefer the cliffs and ocean of California. But some couples prefer the moody, lush green tones. Or big waterfalls protecting them while they share their vows with each other. Or maybe you want haystacks shooting from the ocean into the creamy sunset behind the Pacific Ocean. Sound like FernGully? No, I'm talking about a little place called, Oregon.
Eloping in Oregon gives you lush forests, over 200 epic waterfalls, hundreds of miles of coastal views and a variety of gorgeous backdrops, there's no question as to why you wouldn't want to elope in the PNW. Check out below for the best places to elope in Oregon plus package info!
---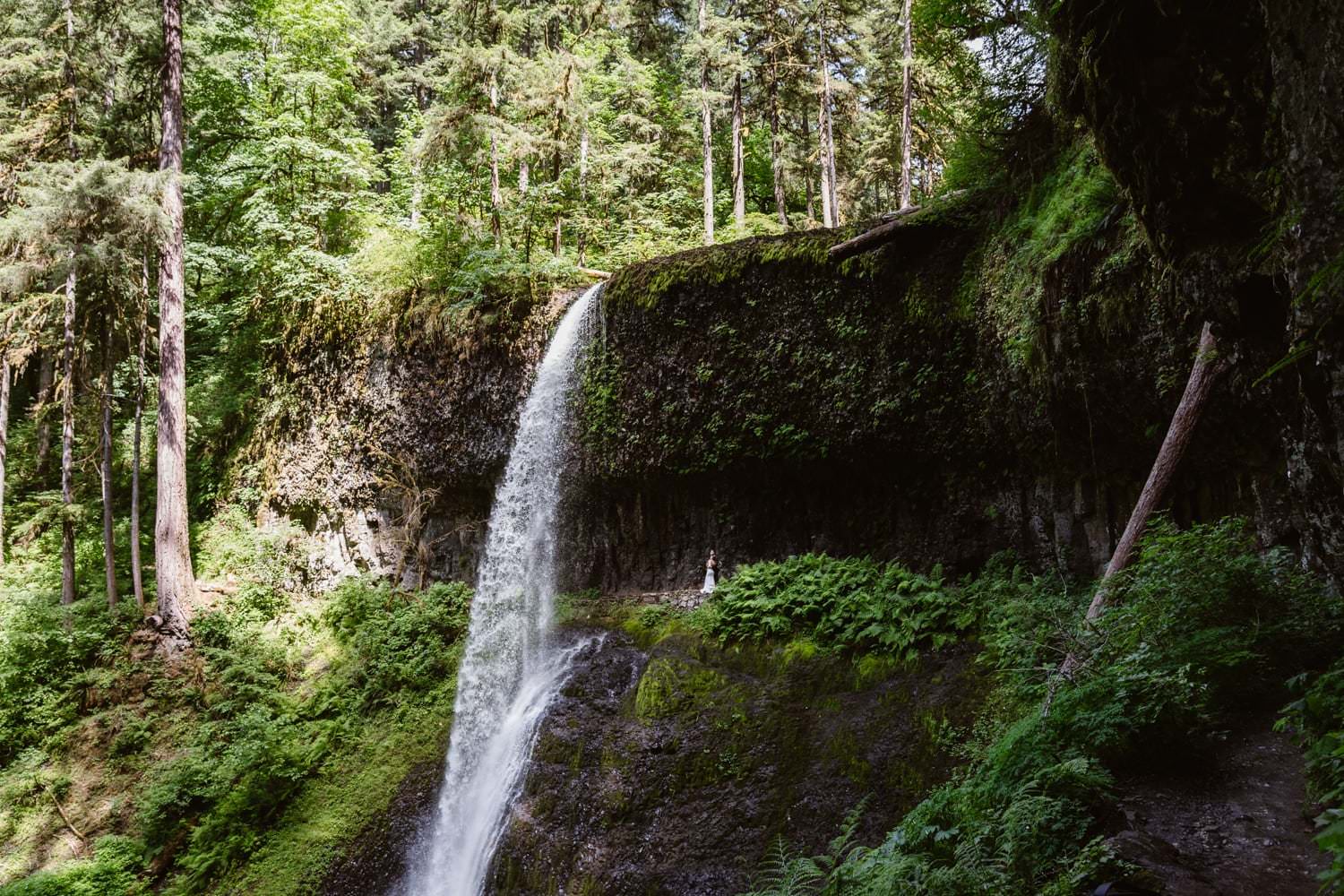 ---
WHERE TO ELOPE IN OREGON
Because Oregon has so many different landscapes, beautiful hikes, and lots of room for exploring, I'm here to help inspire you and narrow down where to elope in Oregon!
I hope this helps and inspires both of you in finding your perfect Oregon Elopement location! If you have any questions or need any help finding and planning your elopement, I would love to chat! Have fun in the imagination bank below!
---
OREGON WATERFALLS
If there's one thing Oregon is know for (outside of Portlandia) it's that it's filled with powerful waterfalls. And the best part about it is that a good amount of these waterfalls are just outside of Portland! This is great for couples looking to tie their honeymoon into their elopement. They can spend a few days on the front or backend of their elopement exploring the weirdness Portland gives its visitors. (Keep Portland weird!)
And these aren't any ordinary waterfalls. Oregon's waterfalls are something out of Iceland! They are powerful and covered in the lushest green you'll ever see. Don't believe me? Check these ones out for yourself!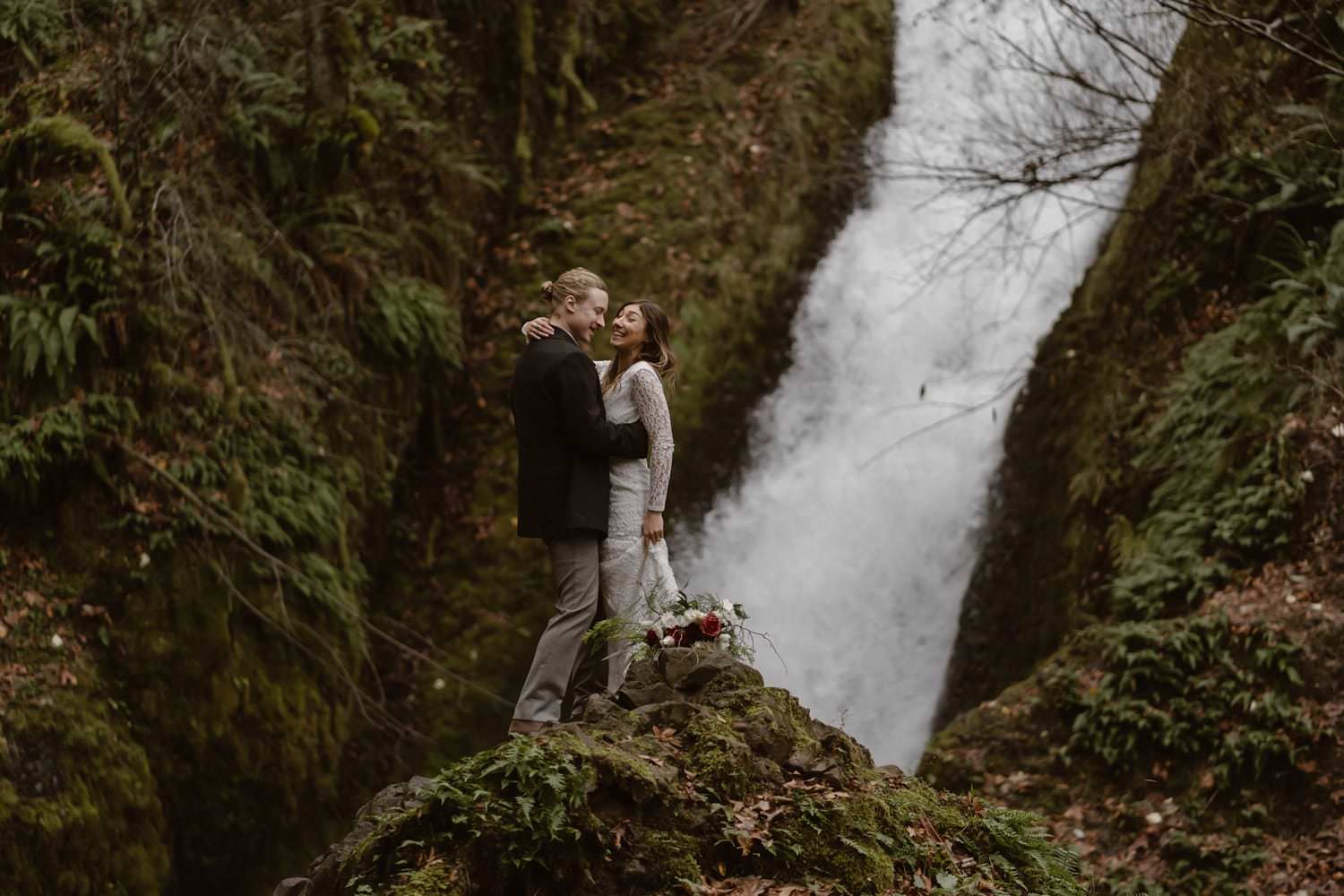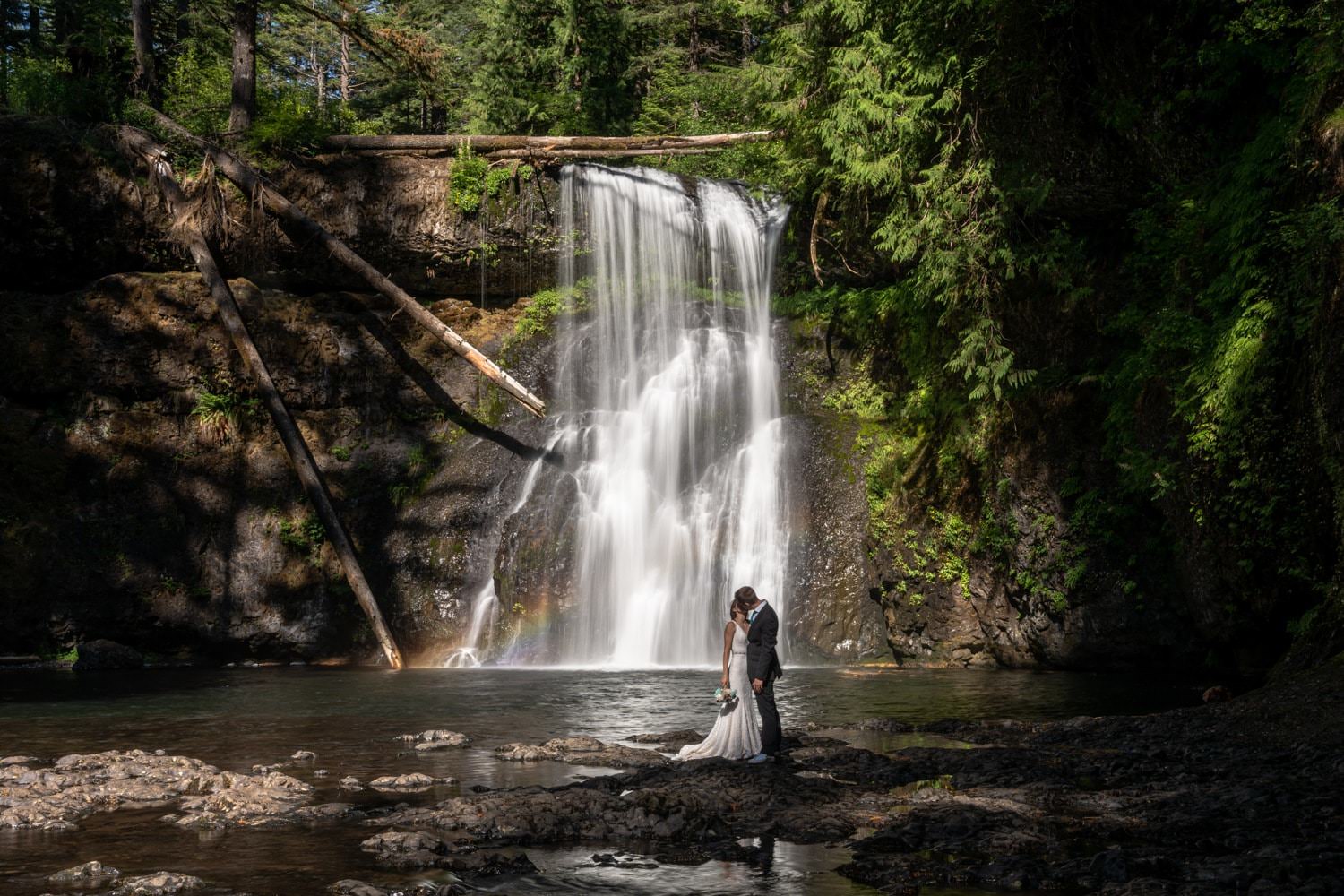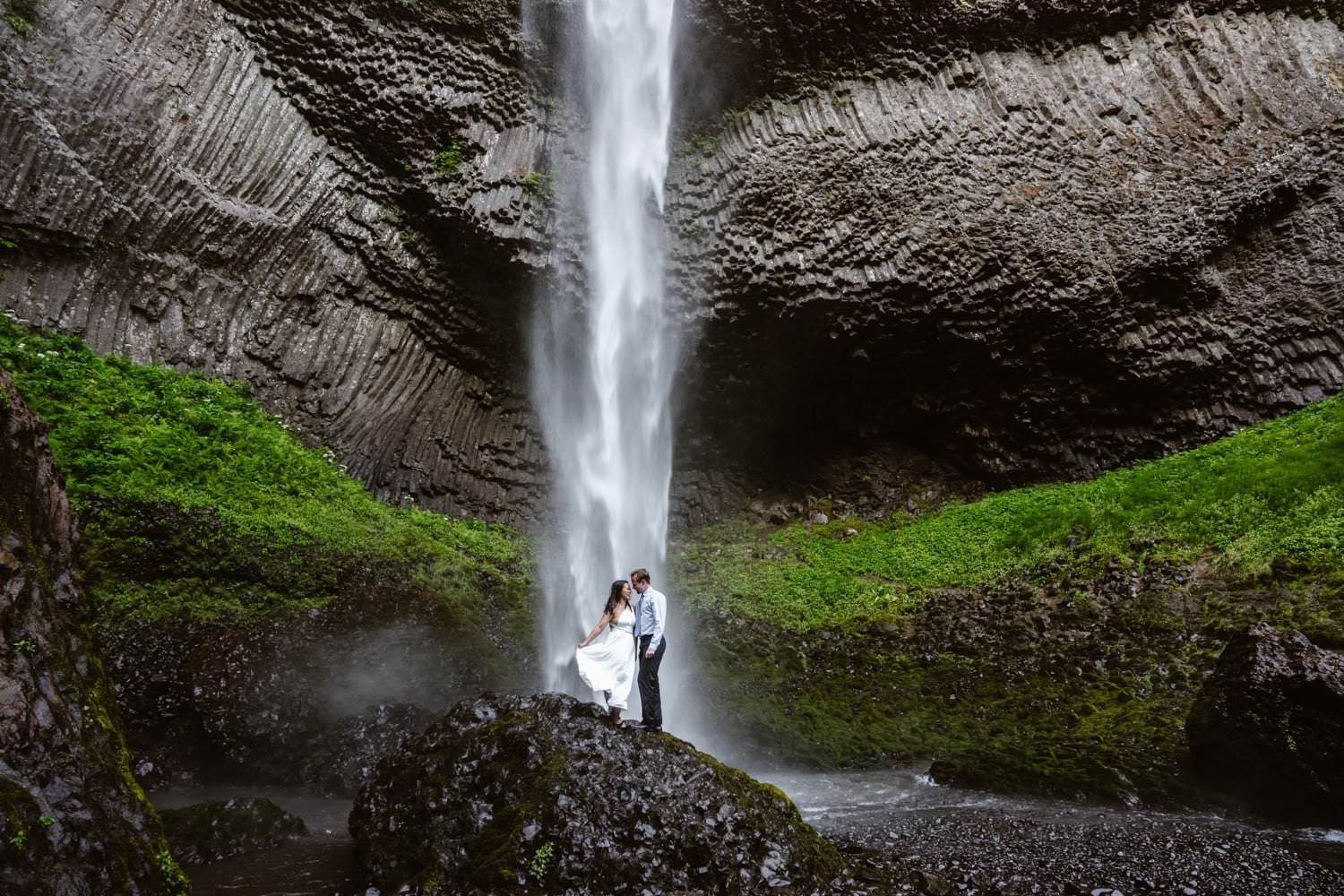 ---
OREGON COAST ELOPEMENTS
Outside of the California coast, you won't find a more rugged and breathtaking coastline than that of the Oregon Coast.
You'll find plenty of places that are not only easy but remote for you to share your big adventure under the cotton candy sunsets over the Pacific Ocean. You'll have fun exploring the massive sea stacks, caves and rocky terrain during your elopement!
One of my favorite locations on the Oregon coast lies right in the small town of Cannon Beach where you can find Haystack rock and Hug Point. This the perfect location choice for couples looking for a number of different backdrops and for those who are looking to make a bonfire.
Need some inspiration? Check out this couples adventure!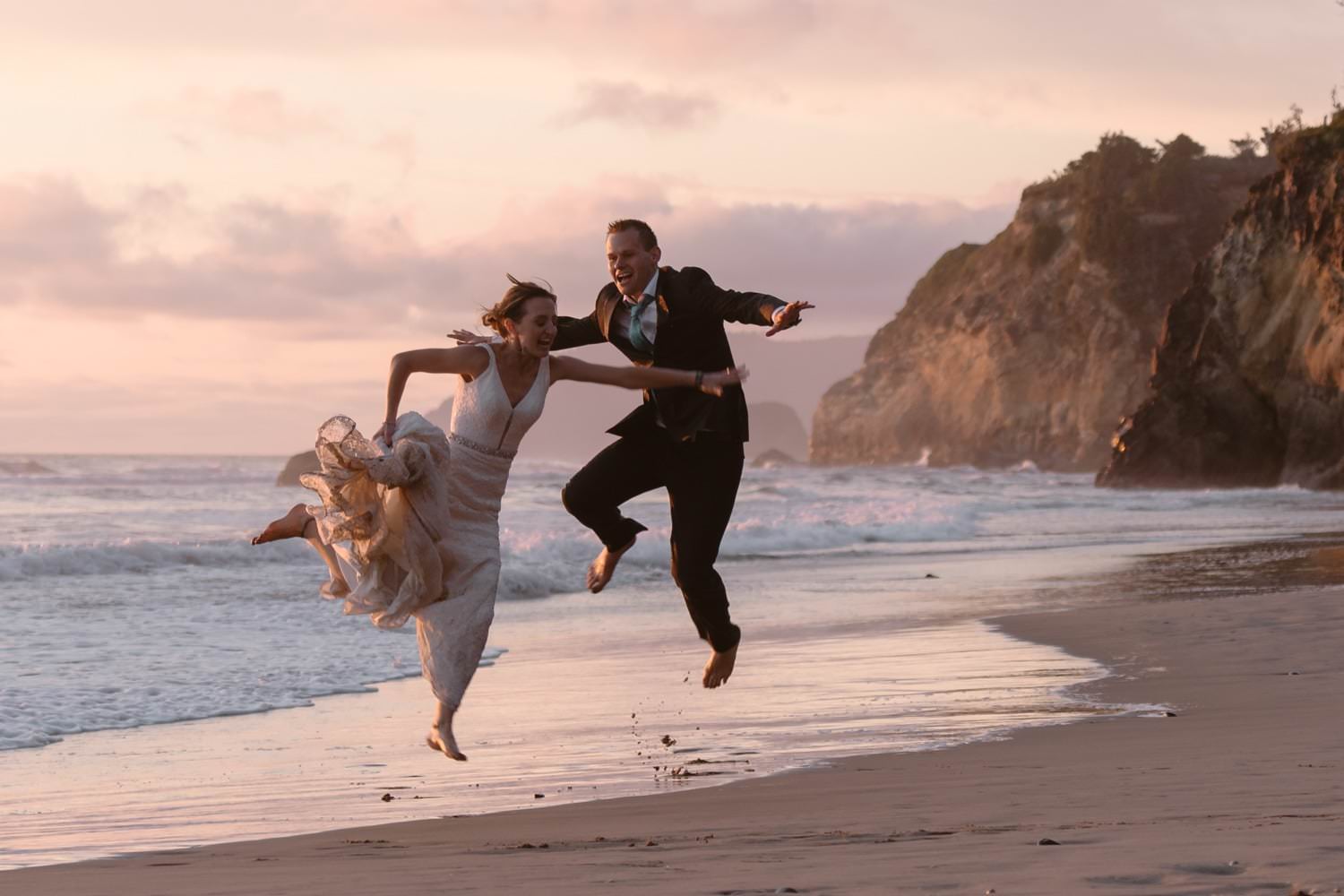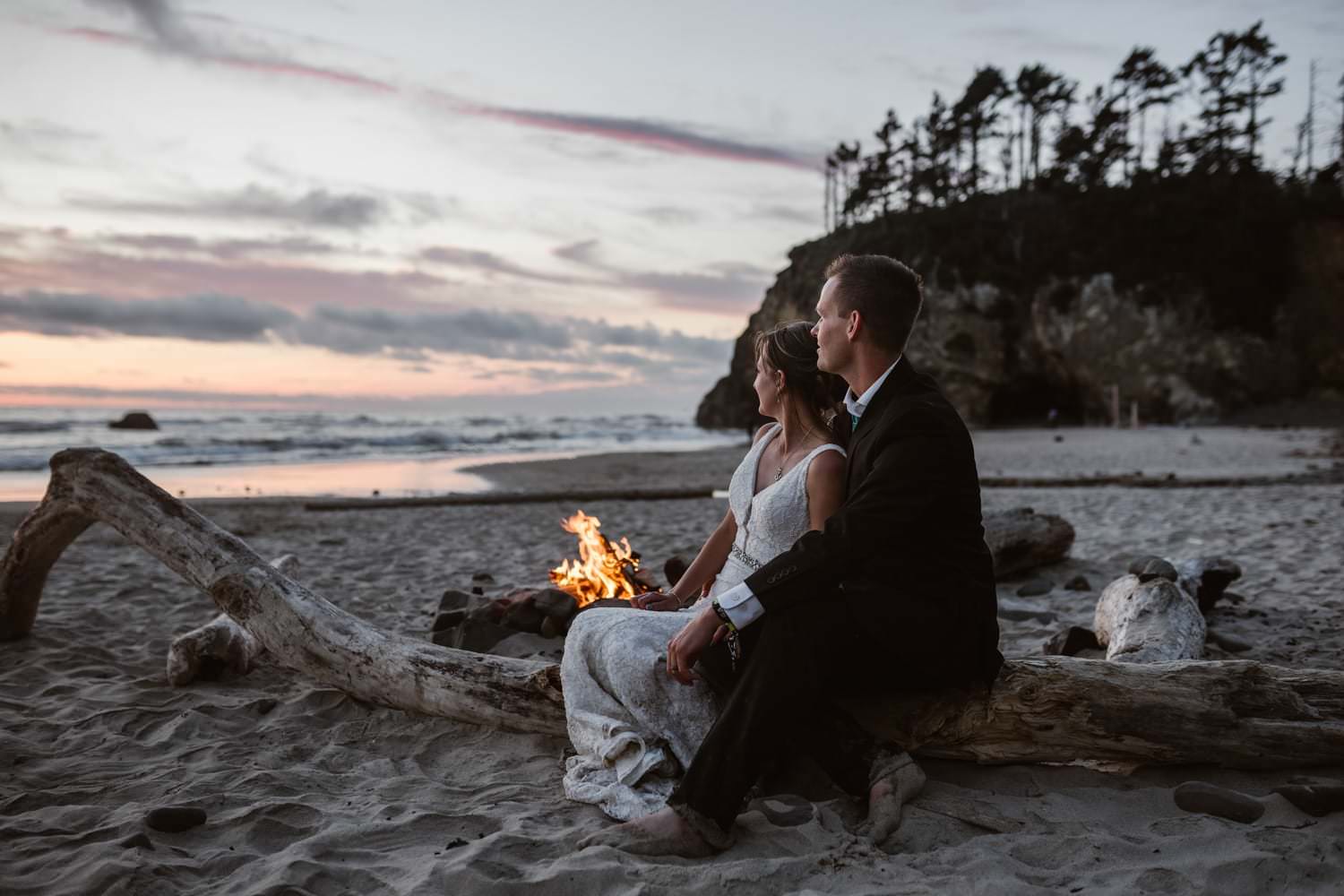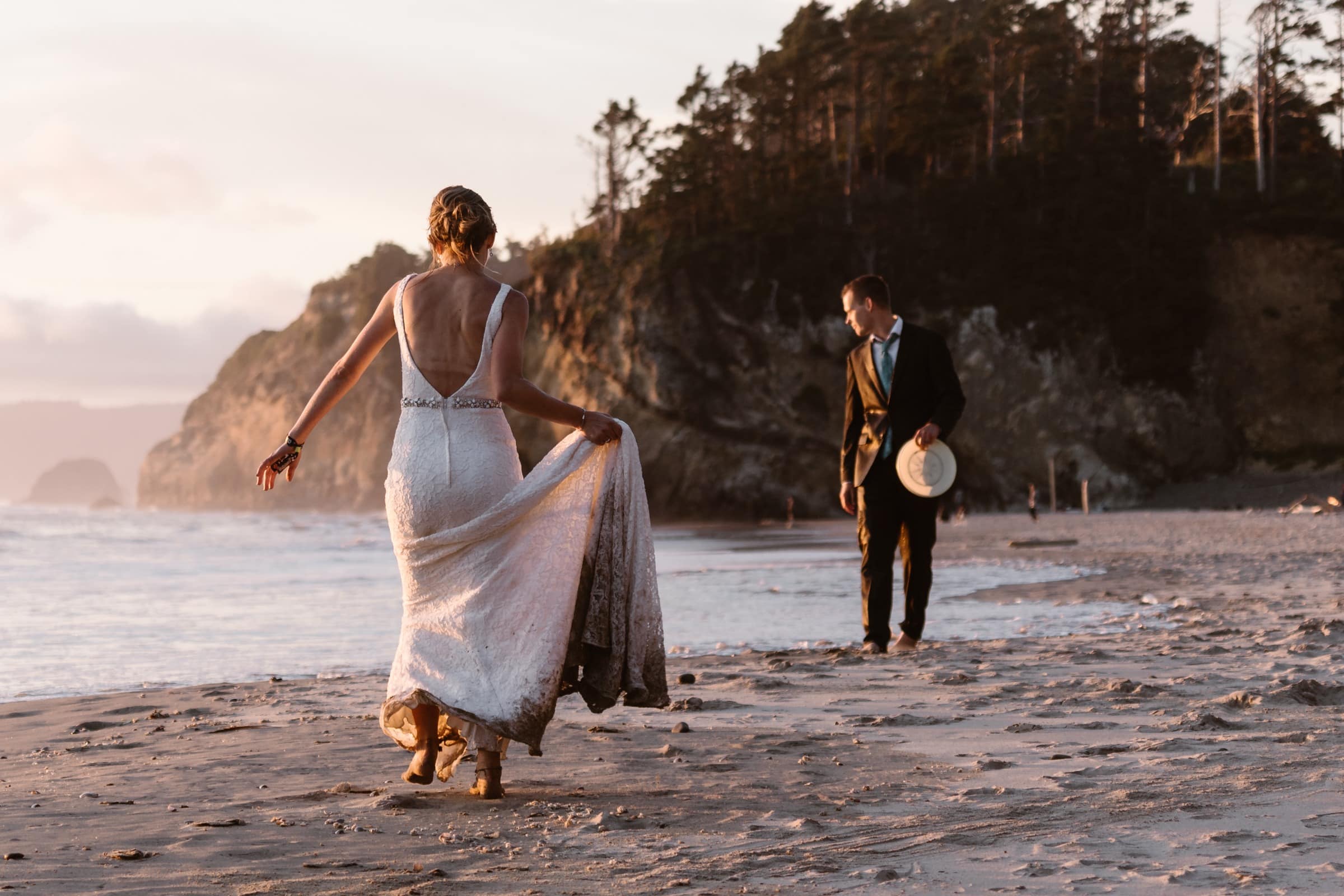 ---
OREGON ELOPEMENT PACKAGES
I'm based in Colorado, but travel to frequently to Oregon for elopements! My photography package for Oregon weddings includes all of my travel & lodging. (Check out my travel schedule to Oregon if you want to save $500!)
Elopement Pricing:
⇻ STARTING @ $5,500 – PAYMENT PLANS AVAILABLE
⇻ 8 hours of coverage.
⇻ Location ideas.
⇻ Lodging suggestions.
⇻ Maps and permit information.
⇻ Celebratory drink.
⇻ Vendor recommendations.
⇻ Next day teasers.
⇻ Online gallery with rights to download and print.
⇻ Unlimited consulting with all 24/7 availability.
⇻ Includes travel fees for me to Oregon!
---
Hopefully this list and photos help you narrow down some choices for your Oregon Elopement!
This was merely to get your imagination going since their are so many other cool spots in Oregon for you to make your "home".
Need help planning and coordinating your Oregon Elopement? I've spent years exploring this beautiful state and can give you a number of different options that inspire you.
---
TEAM
My name is Sean, and I can't wait to help create your adventure elopement! I'm a free spirit who has dedicated my life to exploring this wild world and connecting to the people in it.
I know firsthand what an important and personal decision this is—my wife and I eloped to Northern Ireland. You're trusting me to capture this amazing day, and I make it my responsibility to make sure you have an incredible experience from start to finish.
My passion has led me here, where I can follow my heart and share my love for the outdoors with others on their wedding day. It's truly an awesome experience, and I'm stoked every time I get to document your day.
When I'm not photographing couples, I love to go exploring with my wife and our corgi. Our dream is to own an Airstream and take Vows and Peaks on the road!
Sound like the perfect match? Reach out so we can get started on your epic elopement!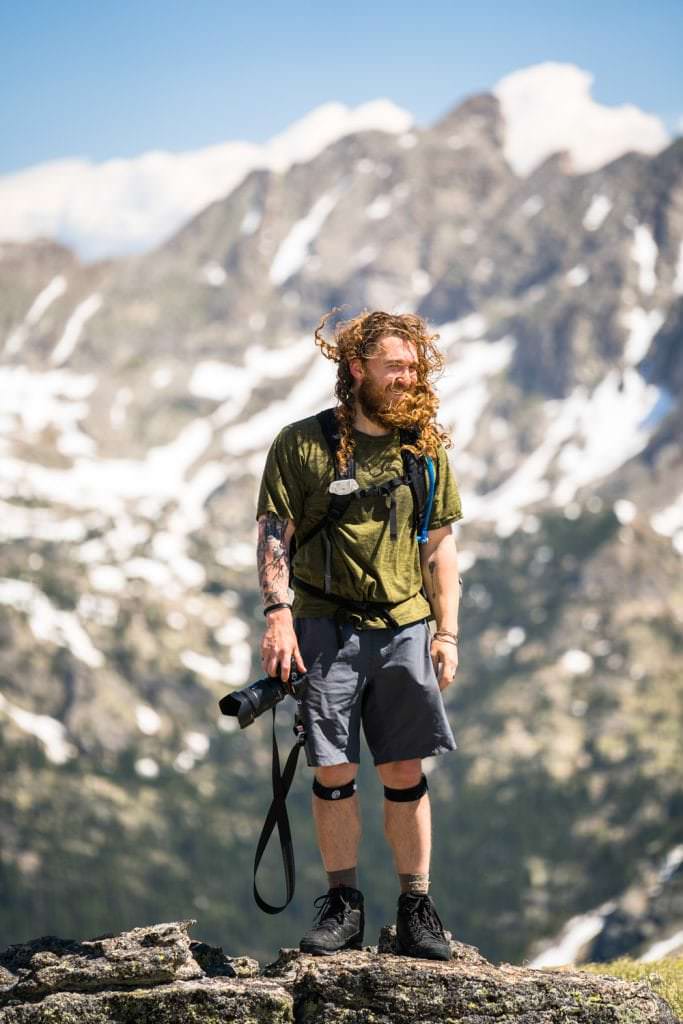 ---