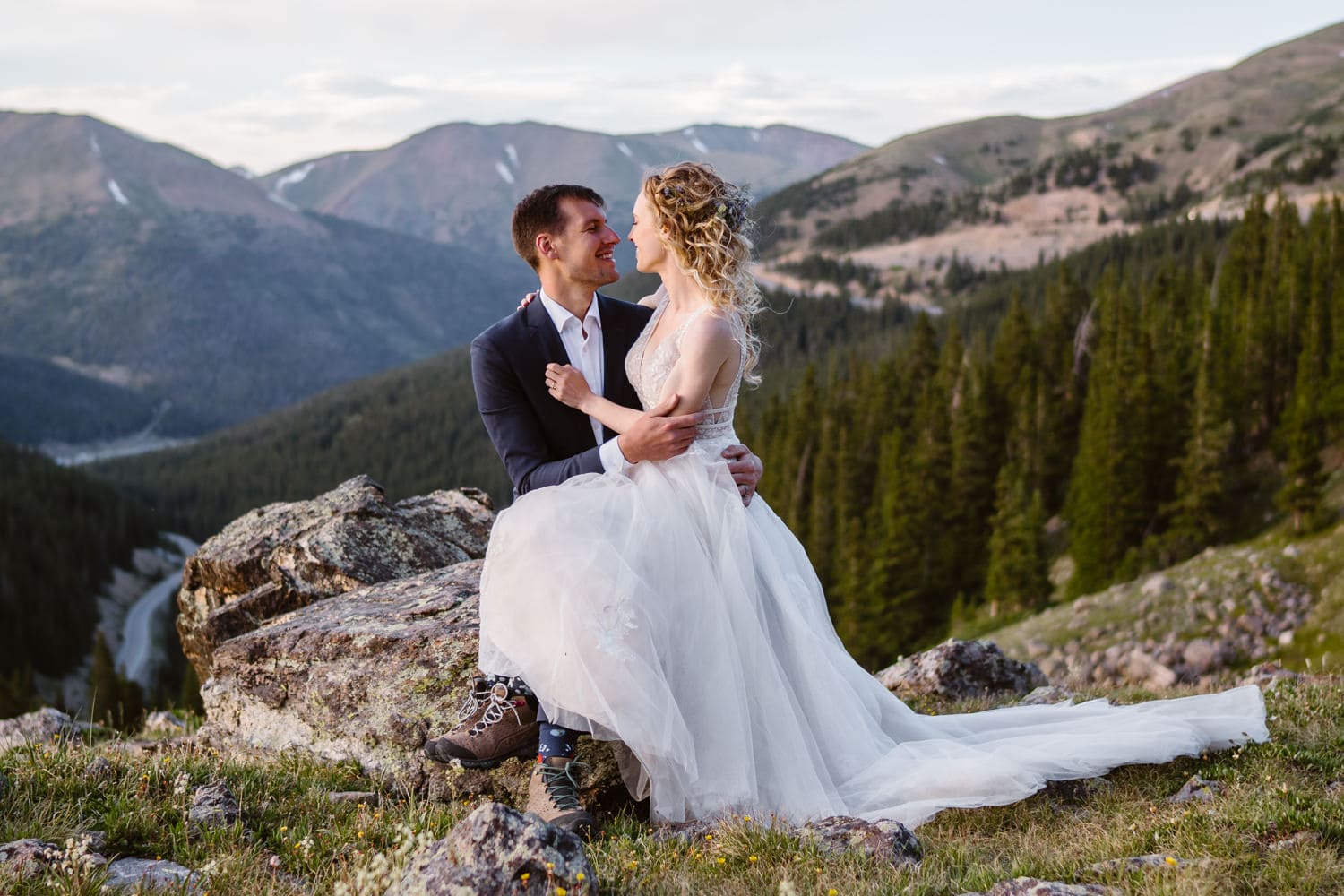 Colorado Elopement Packages
COLORADO ELOPEMENT PACKAGES Your love story has always been an epic adventure. Why would your wedding be any different? And when you consider your next adventure, there's no more fitting place ...
C
COLORADO ELOPEMENT PACKAGES
Your love story has always been an epic adventure. Why would your wedding be any different?
And when you consider your next adventure, there's no more fitting place to elope than the Colorado mountains. Whether your Colorado elopement will be just the two of you or an intimate gathering, I'm here to make sure you start the next chapter of your story in an unforgettable, authentic way!
Best news for you? Colorado is my freaking bread and butter. I've hiked the trails and chased the mountain sunsets—and I'm sharing my passion with you. I know the best spots, the perfect time of day to capture the light, the most epic mountain locations, and (shh, let's keep this between us) those hidden gems. I've teamed up with vendors who get what eloping is all about, so I've got your Colorado adventure elopement down to a science. Simply put: I'm your expert!
As your photographer and professional elopement ninja, I'm here to guide you through the entire process. I'm invested in my couples and want to build a real connection with you, so take your time to read through what I offer—I want you to be 100 percent sold on adventuring with me. Already stoked to lace up those hiking boots and plan your epic day? Contact me to get this started!
---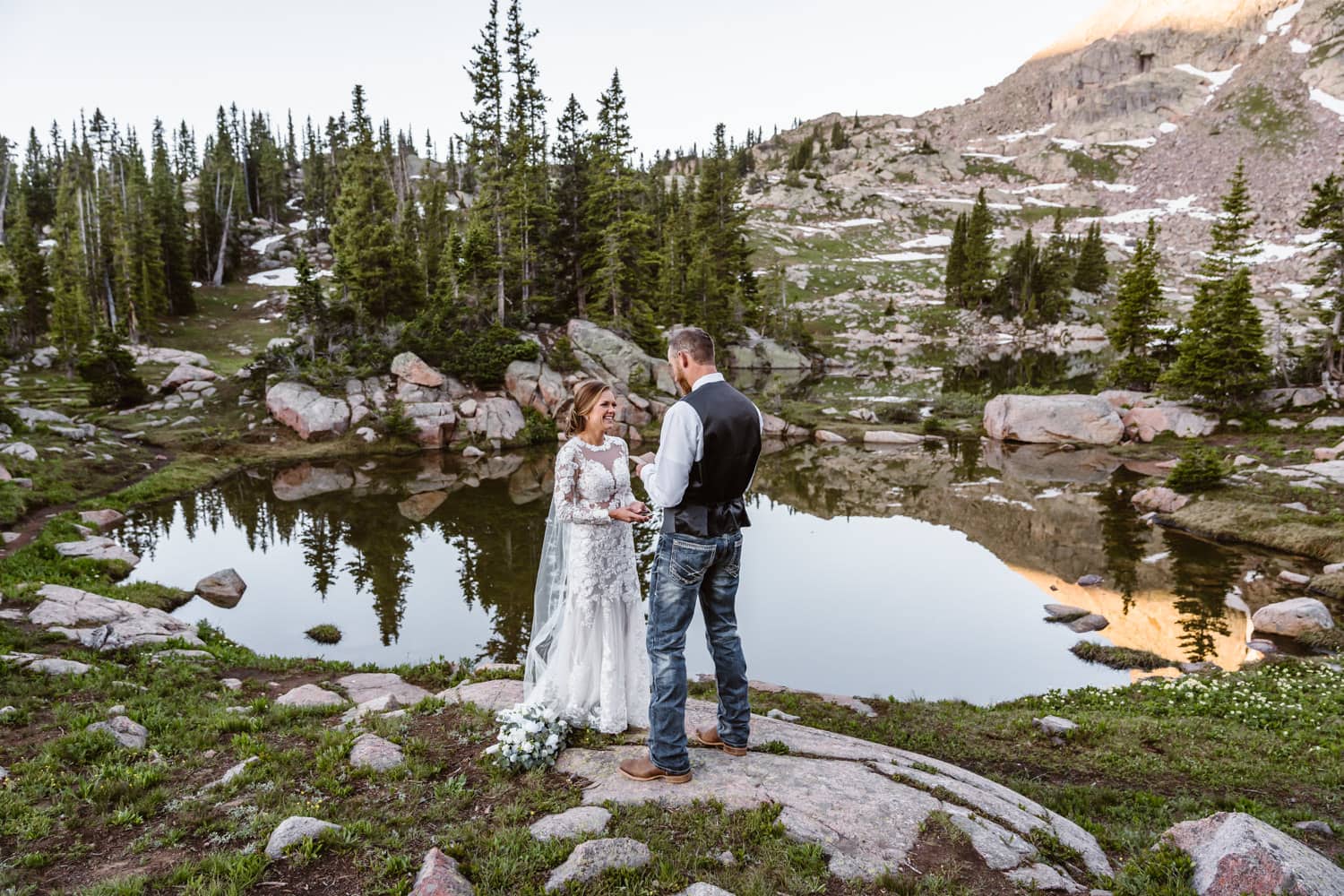 ---
WHAT IS AN ELOPEMENT?
You know what it isn't? A drive-thru Vegas quickie with Elvis officiating. I mean, it can be that—go live your truth, folks!—but eloping looks different today. Elopement means celebrating your marriage in a way that fulfills and inspires you. It's about starting your lives with a big adventure and having a true, authentic wedding day that you'll never regret!
Elopements eliminate all the stress that comes with giant, traditional weddings and puts the focus back where it belongs—on you, your partner, and your lives together.
"The day wasn't just about our commitment to each other, it was about experiencing a moment in time that no one else would understand, nestled in the mountains we cherish so much. The pictures were an added bonus — a bonus we will cherish for the rest of our lives."
– Vee & Joe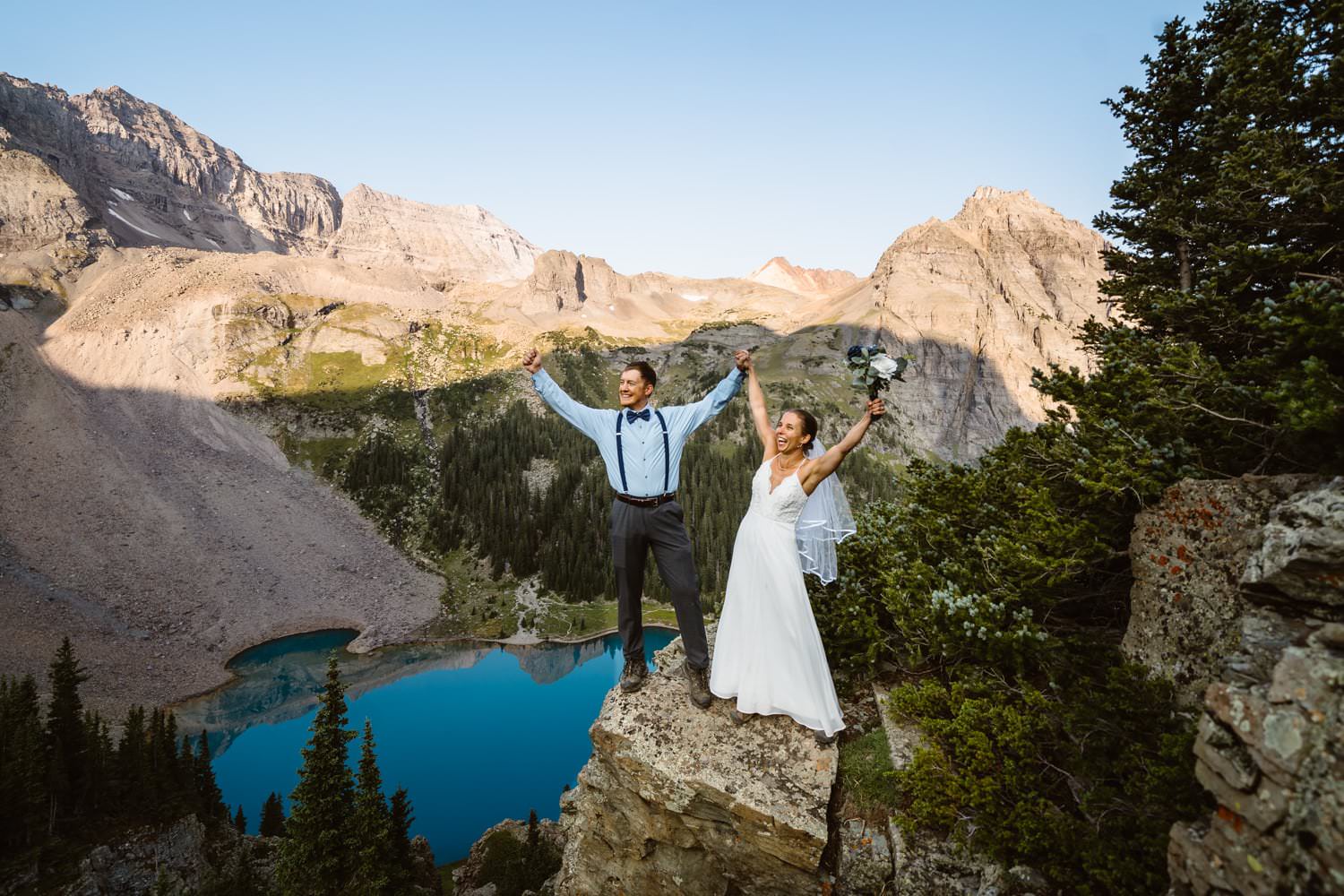 ---
WHAT'S INCLUDED IN MY COLORADO ELOPEMENT PACKAGE?
FULL DAY COVERAGE: Eloping is so much more than a first look and a ceremony. When your big day arrives, I'm there every step of the way. From sunrise to sunset, I'll capture every moment, from the epic shots to the detailed portraits.

WHY DO YOU ONLY OFFER FULL DAY COVERAGE? Because it's about telling your love story in a book rather than one rushed chapter!

GUIDES AND RESOURCES: When I say each elopement is totally customized to you, I mean it. Through unlimited consultations and planning assistance, I'll scout locations, create custom timeline, and share packing lists and preferred vendor recommendations. Check out this sample timeline!
ONLINE GALLERY: You receive fully edited, full-resolution photos with a sharable link and unlimited downloads.
MAP AND PERMIT INFORMATION: Colorado is notorious for requiring permits to elope or get married. But don't worry: I handle the research so you're well prepared with all the necessary information.
NEXT DAY TEASERS: Let's face it. We live in a world of Instagram, Facebook, and Pinterest. You can share your news far and wide with sneak peak photos delivered to you the very next day!
---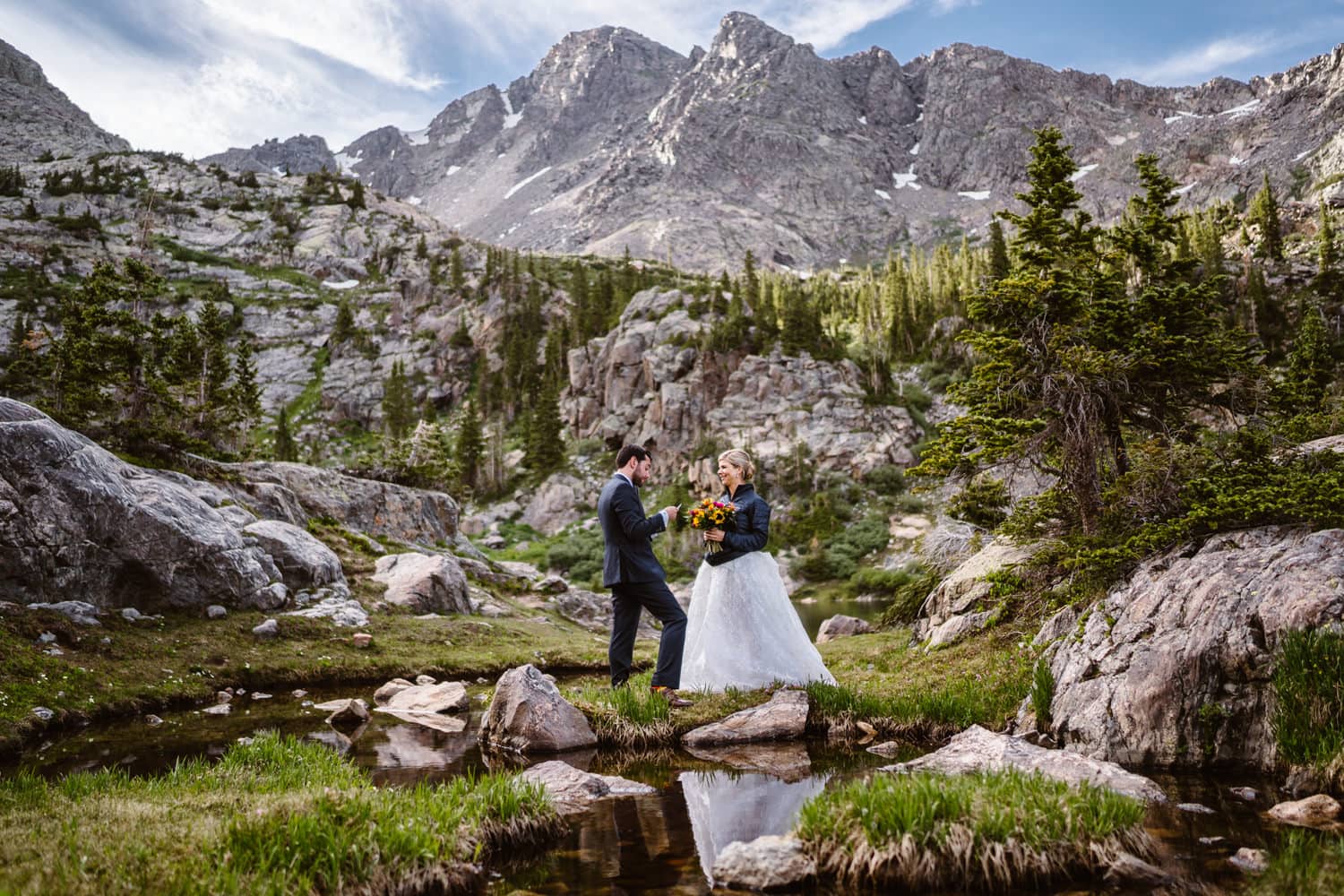 ---
HOW DO YOU ELOPE IN COLORADO?
Choose a date and general area in Colorado to elope.
First, drop me a line, and we'll set up a phone call or grab a beer. Contact me here!
Building a real connection with my couples is a big part of what I do—we're going to be adventuring together, after all! We'll get to know each other and chat about dates and general locations. This process is unique to you, so I want to hear about your story as a couple and your vision for your elopement.
Once you've reserved your date, I'm all yours! I'll scout location options for you, from those iconic Colorado mountain landscapes to some hidden gems, and start crafting your customized elopement.
When your big day finally arrives, we'll spend the day hiking, laughing, singing, and taking in the beautiful scenery. Say your vows in natures heaven, spray champagne (yeah, I'll pack some in for you), and fall into each other's arms. Who did the thing? You did the thing. MOST. EPIC. DAY. EVER!
From the first time we met to the end of the wedding day Sean was one step ahead of the game with planning everything from timeline to location and everything in between. Working with Sean gave us such a stress free way to still enjoy our special day, and Sean was prepared for anything and everything along the way. Sean made our day perfect, and shot some of the most incredible pictures out there.
"From the first time we met to the end of the wedding day Sean was one step ahead of the game with planning everything from timeline to location and everything in between. Working with Sean gave us such a stress free way to still enjoy our special day, and Sean was prepared for anything and everything along the way. Sean made our day perfect, and shot some of the most incredible pictures out there."
– Virginia & Cody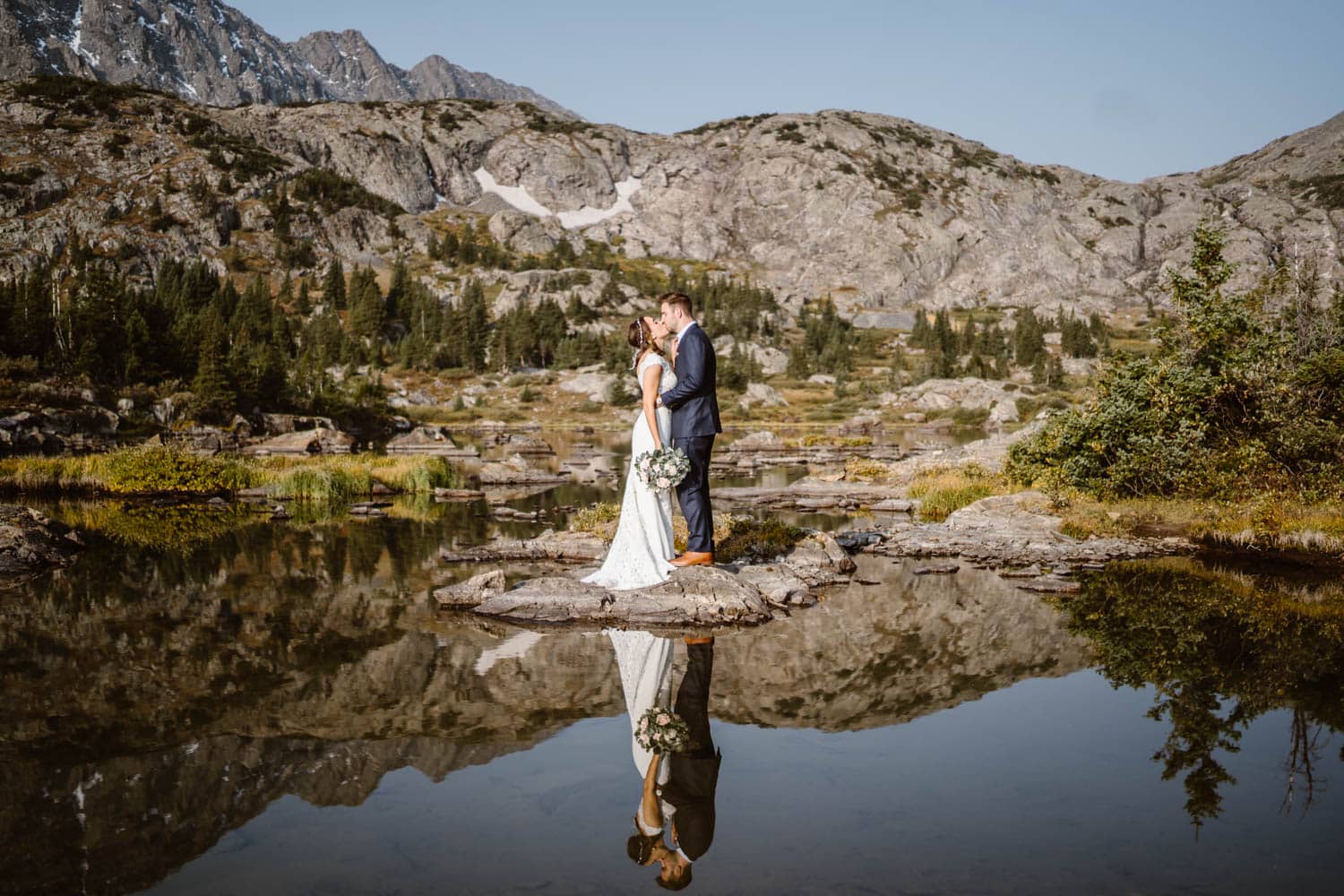 ---
THINGS TO KNOW FOR YOUR COLORADO ELOPEMENT PACKAGE
Colorado is one of the few states where you can legally self-solemnize yourselves! In short, that means you don't need an officiant to legally get married in Colorado, which leads to…
You also don't need a witness to get married in Colorado. This means you can have an intimate self solemnizing ceremony high in the mountains with no one but yourselves. Sounds dreamy, right?!
Colorado has some of the country's best open venues for your wedding. You can choose to elope in a designated spot, or we can search out a more secluded area for your vow ceremony. I'll help you narrow down the choices, because the options are infinite!
Make sure to grab your marriage license at the local courthouse! The fee is $30 and you have to turn your license in within 90 days of picking it up.
Summer trails in Colorado are POPULAR! Your best bet to find seclusion and privacy is by planning a mid-week wedding day to avoid the weekend warriors.
---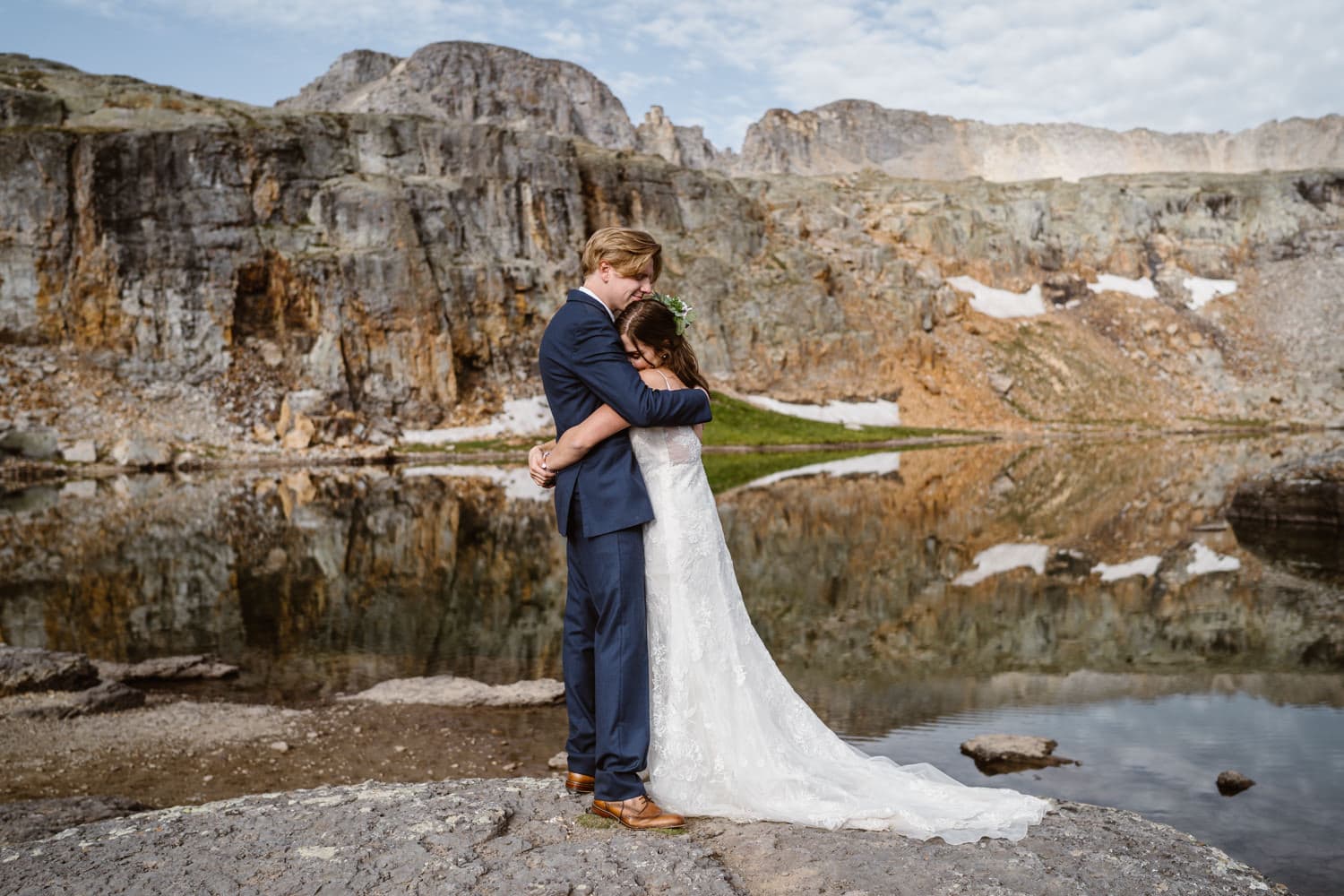 ---
TOP 5 THINGS TO REMEMBER WHEN PLANNING AN ELOPEMENT IN COLORADO
Colorado has some of the country's best open venues for your wedding. You can choose to elope in a designated spot, or we can search out a more secluded area in the mountains for your vow ceremony. I'll help you narrow down the choices, because the options are infinite!
Peak wildflower season in Colorado is bonkers! Picture meadows awash in rainbow colors and pale blue Columbine (our state flower!) hiding in sun-dappled forests. The best time to catch the wild flowers is June through mid-August, when the snow melts in the high terrain.
Colorado has some very unpredictable weather. It can be snowing one day and in the high 70s the next, and summer brings frequent—but short!—afternoon rains in the high elevations. Be prepared with the proper clothing for your adventure (of course you can still wear a wedding dress, but bring a jacket too). Check out this helpful checklist for packing for your big day!
The elevations here are no joke—it's what makes our mountains so rad! About 75 percent of Colorado is above 10,000 feet, so plan to arrive a few days early so you can acclimate to the altitude! (A great option is Denver. At 5,280 feet, it's a vibrant city to chill for a few days while you get used to our thinner air.)
Are you an avid backpacker? These are some of the favorite adventure elopements to document! Colorado has some of the best overnight trips in the country, from single nights to multi-day trips. We'll choose the perfect spot along the trail to say your vows and celebrate truly surrounded by nature. You wont find better scenery—I guarantee it! Check out this backpacking elopement for inspiration.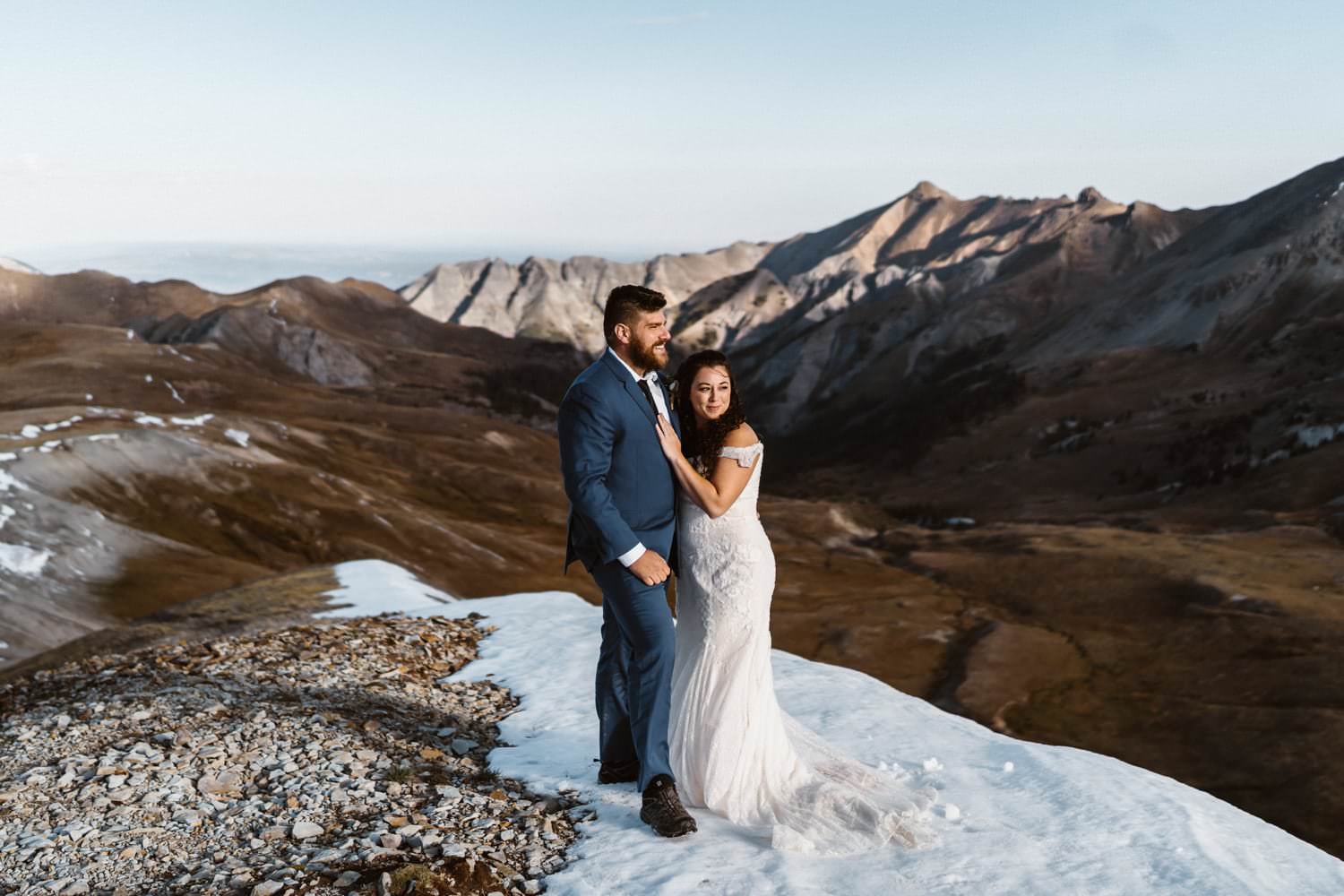 ---
COLORADO ELOPEMENT LOCATIONS
Whether you love the rugged mountain peaks, secluded alpine lakes, deep forests, high plains, rivers, sand dunes, waterfalls, or even the iconic 14ers, Colorado has it all.
I'm like you elopement matchmaker—connecting super cool couples with super cool locations. I'm especially passionate about helping couples find those off-the-beaten-path, hidden gems for exchanging vows. It's just one of the ways your adventure elopement is absolutely customized to you. In fact, the majority of my images shared online are dreamy spots the couples had no idea about!
"Sean was extremely professional and knowledgeable about everything from the different lighting, to poses, to backdrops, etc. I told him what we were looking for in our elopement location and he nailed it, absolutely exceeded my expectations. I knew Sean was the perfect fit for us because he seeks adventure and beautiful views just like we do."
– Heather & Ears
Want to get a taste for what you can expect when we adventure together? Check out my list of favorite places to elope in Colorado below!
---
---
SEASONS IN COLORADO
Every season in brings something spectacular to Colorado. The winter is perfect for cross-country skiing and snowshoeing, and you can expect plenty of blue bird days. September and October bring peak fall colors, where you can warm up with locally roasted coffee and wander through valleys alive with orange and yellow aspen trees. But the real draw is summer. It's the distilled Colorado experience, made complete with one of our famous craft beers, long afternoons, a miles of trail waiting for you. Your elopement will be truly unforgettable next to a secluded alpine lake or among the wildflower-filled meadows.
Colorado is a state with many seasons (you notice above I skipped spring—aka mud season—but there are amazing lower-elevation options available for March–May). Even better, we're a state boasting 300 days of sunshine, so there's always someplace beautiful for your elopement!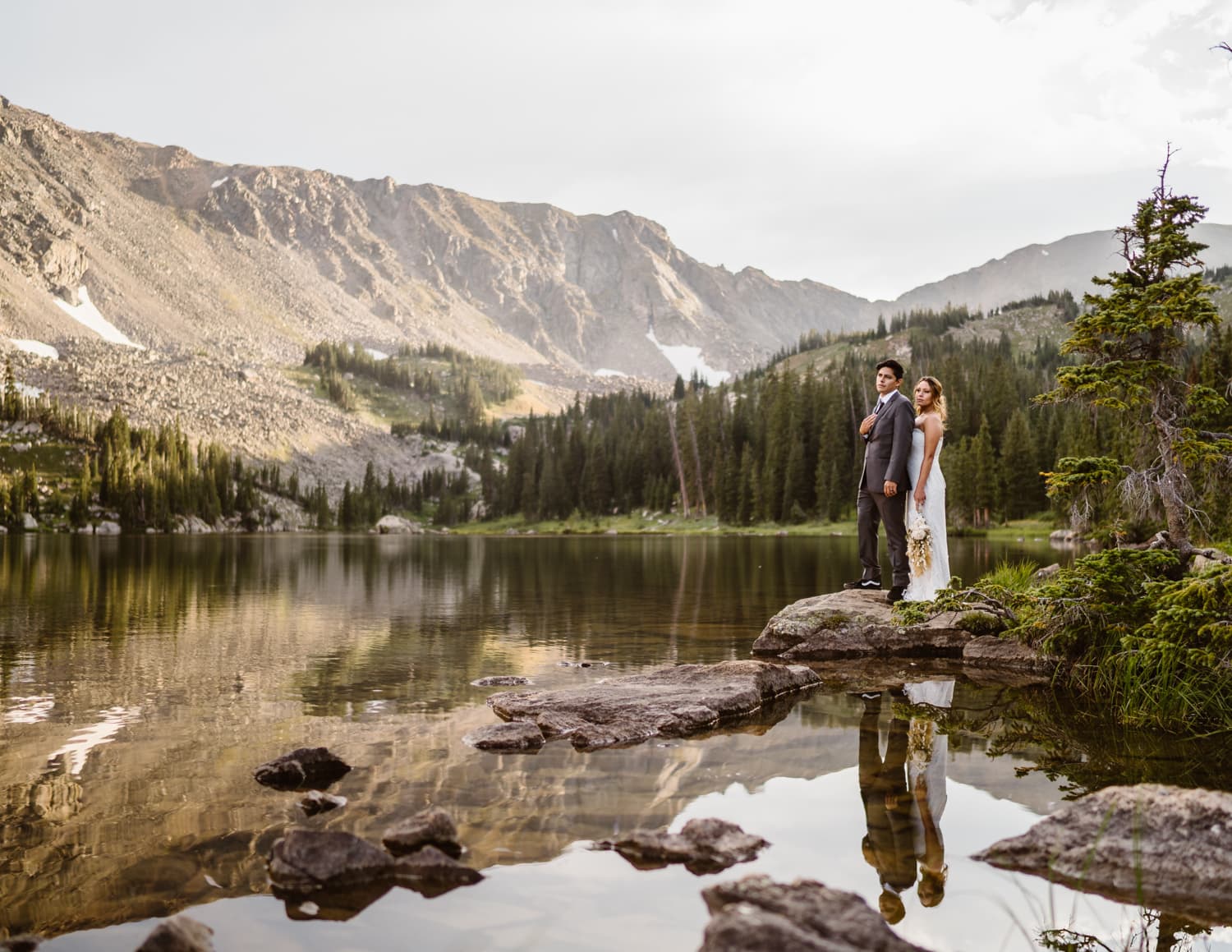 ---
REASONS TO CONSIDER A WEEKDAY ELOPEMENT
You can reserve special spots more easily. Many gorgeous elopement spots in National Parks and on private lands require reservations and can book up to a year in advance on weekends. Even some of my favorite local spots are slammed on the weekends. On weekdays it is much easier to nab these spots!
You deserve to take time off for your wedding! If you work a Monday through Friday gig, you definitely have the right to take a few days off for your elopement! Enjoy an outdoor ceremony out in stunning nature mid week, and then take the weekend as a honeymoon to celebrate and rejuvenate married AF!
More vendors are available and affordable. Photographers, videographers, caterers, etc. all book up far in advance on weekends, especially in the small towns around epic nature locations. But on weekdays vendors are usually available, and some even will have special deals!
Eloping on a weekday will give you and your partner maximum peace and quiet as you experience the natural beauty around you on the most important day of your life! You won't have to worry about a million tourists stopping to take photos on their iPad's. You'll get to explore your favorite spot without extra eyes on you and you'll get more amazing photos as well!
---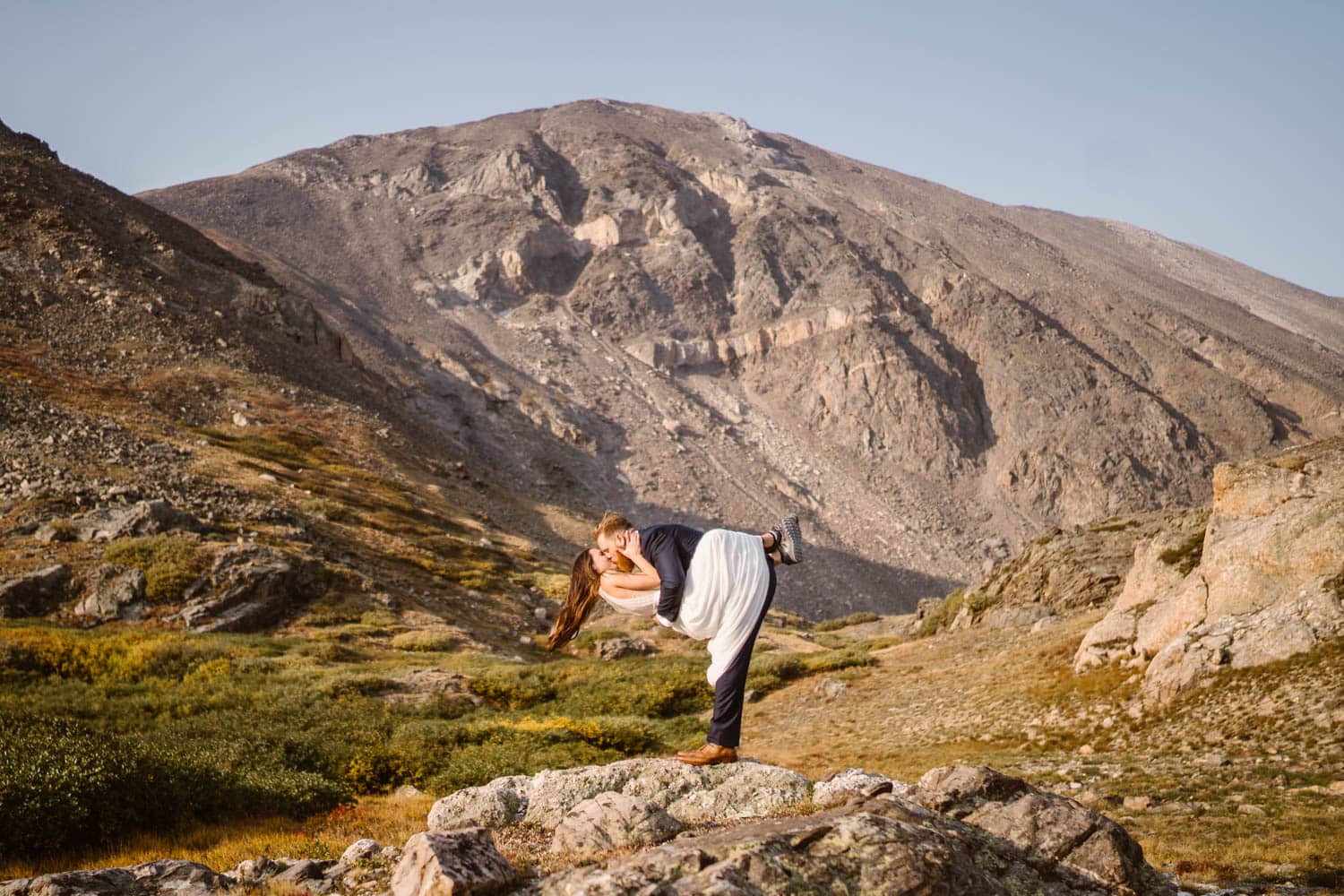 ---
SUNRISE OR SUNSET EXPERIENCE?
If elopement photography is important to you (you wouldn't be here if it wasn't!), you'll want to have your ceremony in the morning or evening to capture the best light.
Sunrise in the mountains might be the most beautiful, calm, crowd-less part of the day. Your elopement will be truly secluded as you say your vows surrounded by the morning alpenglow, the rising sun reflecting off the alpine lakes. The only downside to sunrise is an obvious one—the early wake-up time! But you can't beat the calmness and intimacy. I also love sunset, as the sun dips below the mountain peaks and lights up the sky in a dreamy palette.
Be sure to check out the sunrise and sunset times here when considering ceremony times.
---
---
WHAT'S THE COST OF ELOPING IN COLORADO?
Let's face it. Weddings are pricey! And even though elopements are cheaper than traditional weddings, you still have to take into consideration travel and vendor expenses. In the end, the budget is completely up to you!
My wife likes to call budgeting the "B word" and for good reason, because no one wants to talk about it! I suggest you start off with a list of things that you envision being included in your day. Stuff you might want to consider:
Photographer/Videographer

Check out my pricing guide for Colorado elopements here

Permits
Hair & Makeup

Most of my sunrise couples skip hair and makeup so they can get the extra 2 hours of sleep.

Marriage License
Officiant
Florist
Food & Beverage

You can enjoy the awesome restaurant scene in Colorado or even hire a private chef to cook you up an amazing meal at your Air Bnb.

Travel

airfare, car rental, hotels, etc.
After you've come up with your list, then it's time to narrow down things you consider "must haves" on your elopement. Are there some things you are not willing to cut out? In Colorado, you can go pretty simple and do a lot of things yourself like your hair and makeup, and in Colorado, you can self-solemnize your own elopement if you want to skip the officiant.
The average cost of a wedding is $33,931, and I would say an average elopement here can average from $5,000 to $10,000 depending on a number of scenarios!
---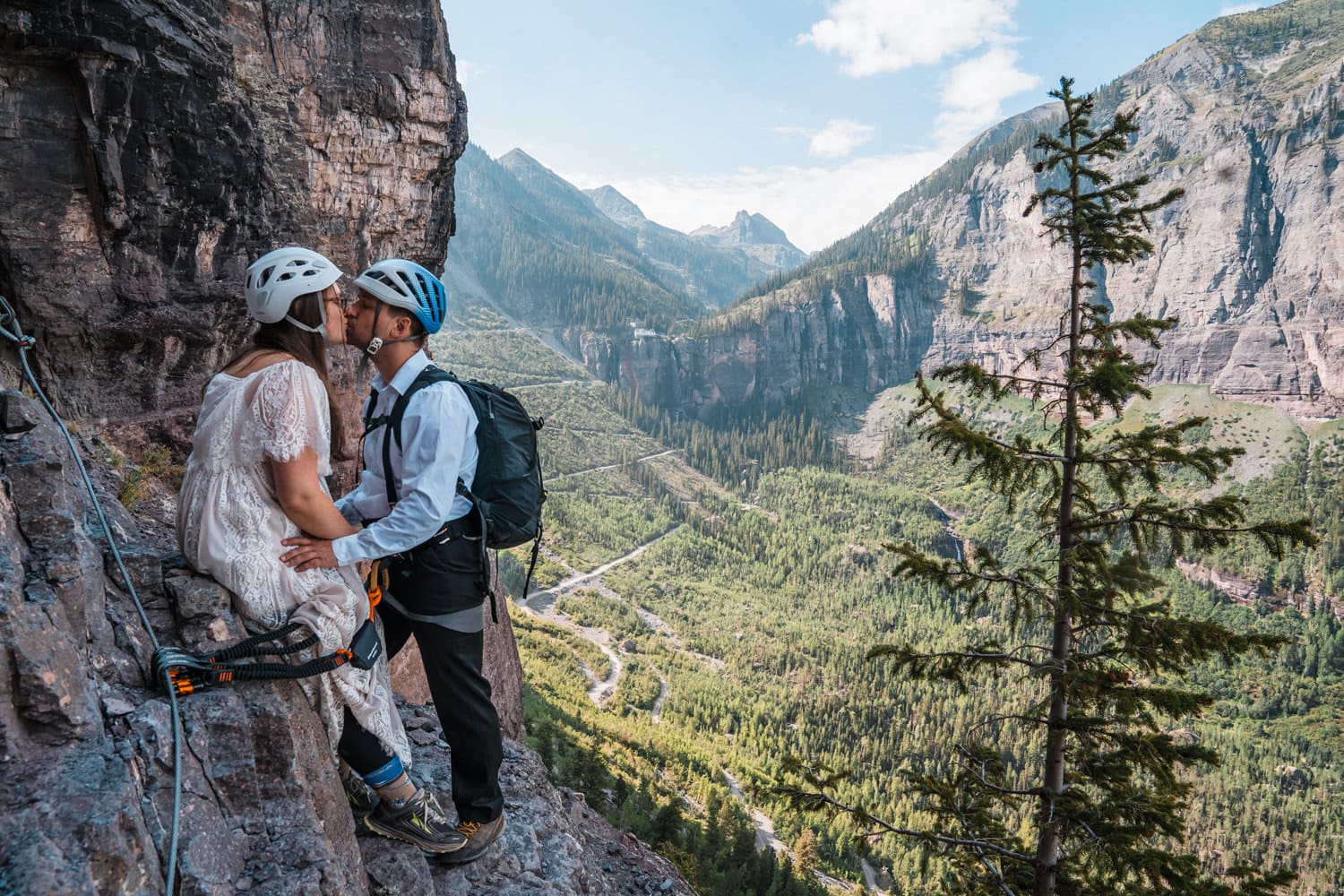 ---
CAN YOU GET MARRIED THE SAME DAY IN COLORADO?
Colorado does require the couples to apply in person for their marriage license at the local County Clerk's office. If you are from out of state, the best method is to set up your appointment online. My wife and I also did our paperwork beforehand, which saves you some time.
After you get your marriage license, you don't have a waiting period. You can literally pop out that day and elope that night in the mountains of Colorado! Just remember to sign and turn in all SIGNED documents within 63 days.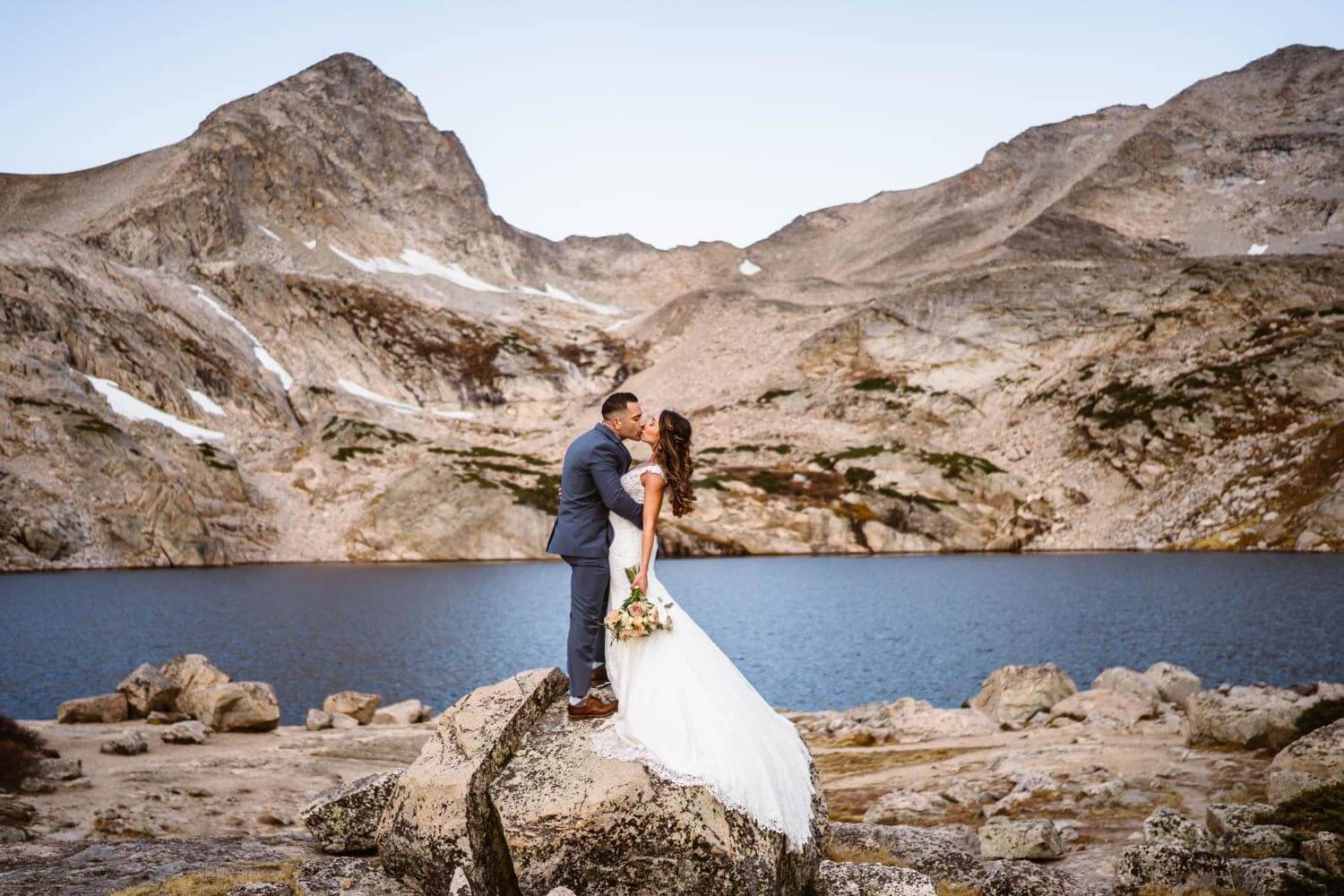 ---
VENDORS TO BUILD YOUR PERFECT COLORADO ELOPEMENT PACKAGE
I've teamed up with the best vendors in Colorado who specialize in elopements that share the same passion and enthusiasm for mother nature. I'll connect you with specialized elopement vendors like officiants, hair and makeup, floral, live music, and private chefs and you can choose which ones you want to incorporate into your day.
---
LET'S SEND IT!
---
TEAM
My name is Sean, and I can't wait to help create your Colorado adventure elopement! I'm a Colorado-based free spirit who has dedicated my life to exploring this wild world and connecting to the people in it.
I know firsthand what an important and personal decision this is—my wife and I eloped to Northern Ireland. You're trusting me to capture this amazing day, and I make it my responsibility to make sure you have an incredible experience from start to finish.
My passion has led me here, where I can follow my heart and share my love for the outdoors with others on their wedding day. It's truly an awesome experience, and I'm stoked every time I get to document your day.
When I'm not photographing couples, I love to go exploring with my wife and our corgi. Our dream is to own an Airstream and take Vows and Peaks on the road!
Sound like the perfect match? Reach out so we can get started on your epic elopement!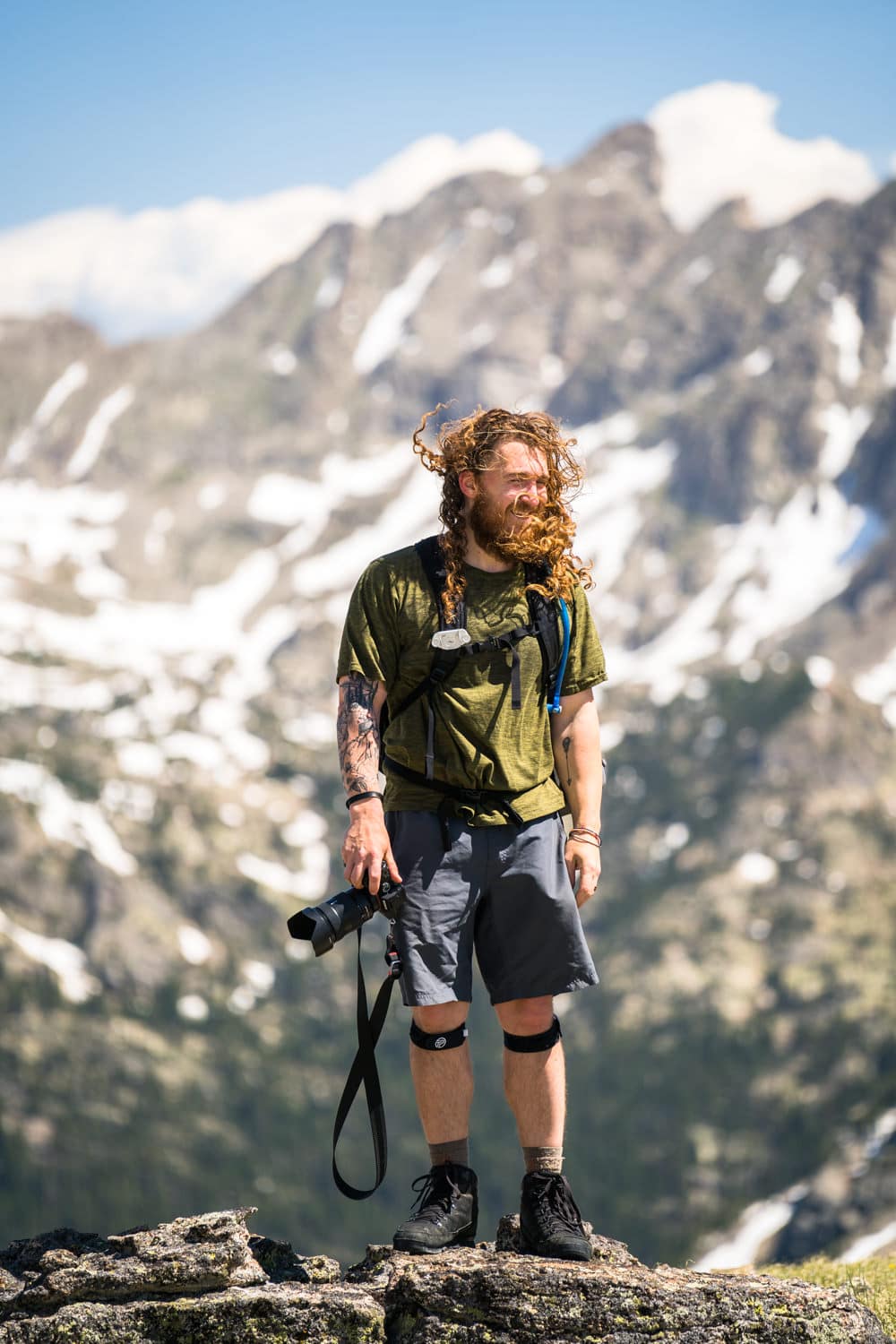 ---
• Where do I get ready? Before we start hiking, or …?
There are no rules when it comes to eloping. But hiking long distances while decked out in wedding attire can be a challenge, which is why so many of my couples opt for carrying their wedding clothes, flowers, and other gear in a backpack until they reach their epic destination to exchange vows. Or you can say eff it and spend every moment of your wedding day in your gown or suit. It's your day—do what you want!
• My family wants to be there. What are my options?
More than half of my elopements include family members. Again, the whole point of an elopement is, you make the rules! It's completely normal for couples to want their family to witness their wedding (but give yourself permission to say no to family if you want).
So if your family is on board with your vision, invite them along for the adventure! Another option is to elope just the two of you then throw a big party when you get home—wear your wedding clothes and share the story of your epic day!
• Any tips for awkward and camera shy people?
This isn't like any other time you've had a camera in your face. The point isn't the photos—the point is to enjoy this experience! That's the sweet spot where captivating, natural photos happen. I've found it helps to incorporate some of your favorite activities: paddle boarding, rock climbing, hiking, cliff jumping, bringing your pet, or even spraying champagne (hey, that can be your favorite activity). You'll forget my camera is even there!
• Who marries us? (I assume there's not an ordained moose hanging out.)
In some places, like Colorado, you can marry yourselves! Or invite a friend or family member to adventure with you to officiate. Just make sure that officiant is 100 percent on board with your bad-ass elopement (and the level of hike we've planned)!
• How far in advance should I start planning my elopement?
I suggest booking your date and general location 3-6+ months out but I've done elopements in just 7 days! After you book your date, I'll guide you through the entire process. Elopements are supposed to be no stress and minimum planning on your part, while still achieving the perfect wedding day!
• How would you describe your photography & editing style?
I would describe my style as adventure storytelling. You're getting married in some of the most stunning spots on the planet, so I focus on the couple while highlighting the amazing landscape. I've always been a sucker for keeping photos as natural as they were in the moment, while adding an extra special zest in post editing. I am a lover of nature and people, and these two things combined make for some epic photos!
5 STAR RATED
HAPPY COLORADO COUPLES
WONDERING WHAT IT'S LIKE WORKING WITH ME? READ FOR YOURSELVES!
W
AS FEATURED IN
WANDERING WEDDINGS
L
AS FEATURED IN
LOOKS LIKE FILM