The Best Places to Elope In Colorado
Best Places to Elope in Colorado
So, you've made the decision to elope, CONGRATS! Now is the fun part – deciding where you want to elope. Think about a place that inspires you, moves you, and makes you feel at home. Find the place for a fairytale and make it yours.
Now, I have been fortunate enough to live in Colorado for the last 7 years, which has granted me so many opportunities to capture the most iconic and beautiful alpine lakes and snowcapped peaks the US has to offer. If there is one place I believe people should consider eloping to, it is Colorado! I believe that it truly embodies the freedom that we have in our lives to make our own choices, and to discover what truly makes us happy. The majesty and dignity of this landscape both inspire and reflect the majesty and dignity of each individual that gets to experience it.
---
---
COLORADO LANDSCAPE
Eloping in Colorado gives you epic views of 15 mountain ranges, 54 peaks over 10,000 feet, alpine lakes, and a variety of gorgeous backdrops, there's no question as to why you wouldn't want to elope in Colorado.
Because Colorado has so many different landscapes, beautiful hikes, and lots of room for exploring, I'm here to help inspire you and narrow down where to elope in Colorado. Think about the a place that inspires you, moves you, and makes you feel at home.
Below you will find some of my favorite places in Colorado that I know would make a perfect backdrop for your Colorado Elopement!
---
ELOPEMENT LOCATIONS COLORADO
---
LAKE ISABELLE
Lake Isabelle is located just outside Boulder and is perfect for eloping couples looking for big alpine views This out and back hike crosses over waterfalls, wildflowers before finding this beautiful alpine lake situated between a valley of stunning mountain peaks. According to AllTrails, this hike is 4.3 miles round trip!
SEASON: Summer – Fall
PERMIT REQUIREMENTS – None
---
GUANELLA PASS
Guanella Pass is a staple piece in the front range of Colorado. The road climbs above timberline and gives you epic views of Mount Bierstadt and plenty of open tundra for you to explore during your elopement day. The road descends you down to an alpine lake or historic Georgetown where you can share a beer at a local brewery afterwards!
SEASON: Summer – Fall
PERMIT REQUIREMENTS – None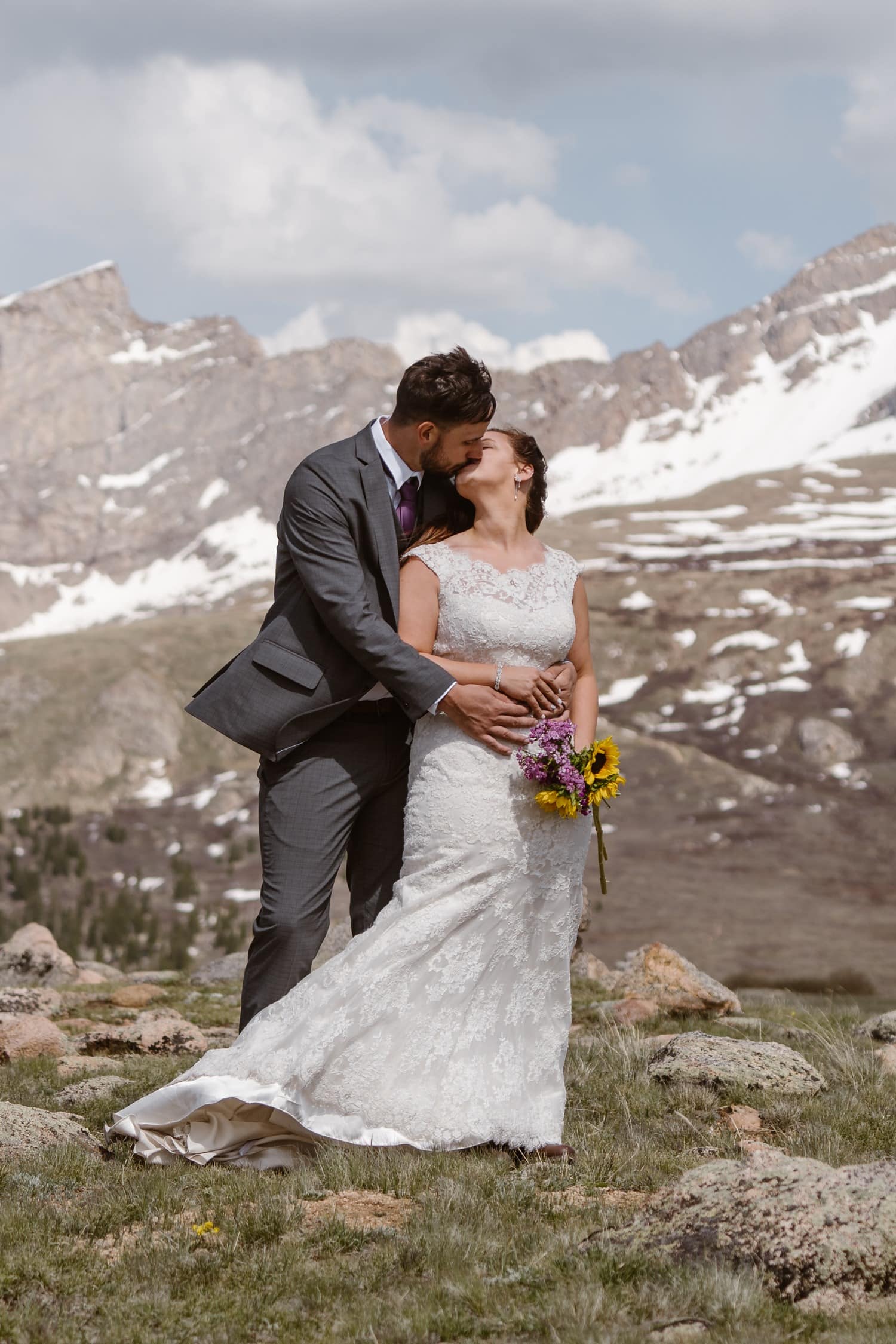 ---
SAN JUAN MOUNTAINS
The San Juan's are lined with old rugged volcanic peaks that run through the south western part of Colorado. This mountain range is covered in wild flowers and home to 28 jagged peaks and number of breathtaking turquoise alpine lakes that would be perfect for you Colorado elopement.
Our elopement in the San Juan Mountains in Colorado was epic, intimate, and absolutely loved the gorgeous pictures that Sean took!

Sofia & Chris
SEASON: Year-round
PERMIT REQUIREMENTS – None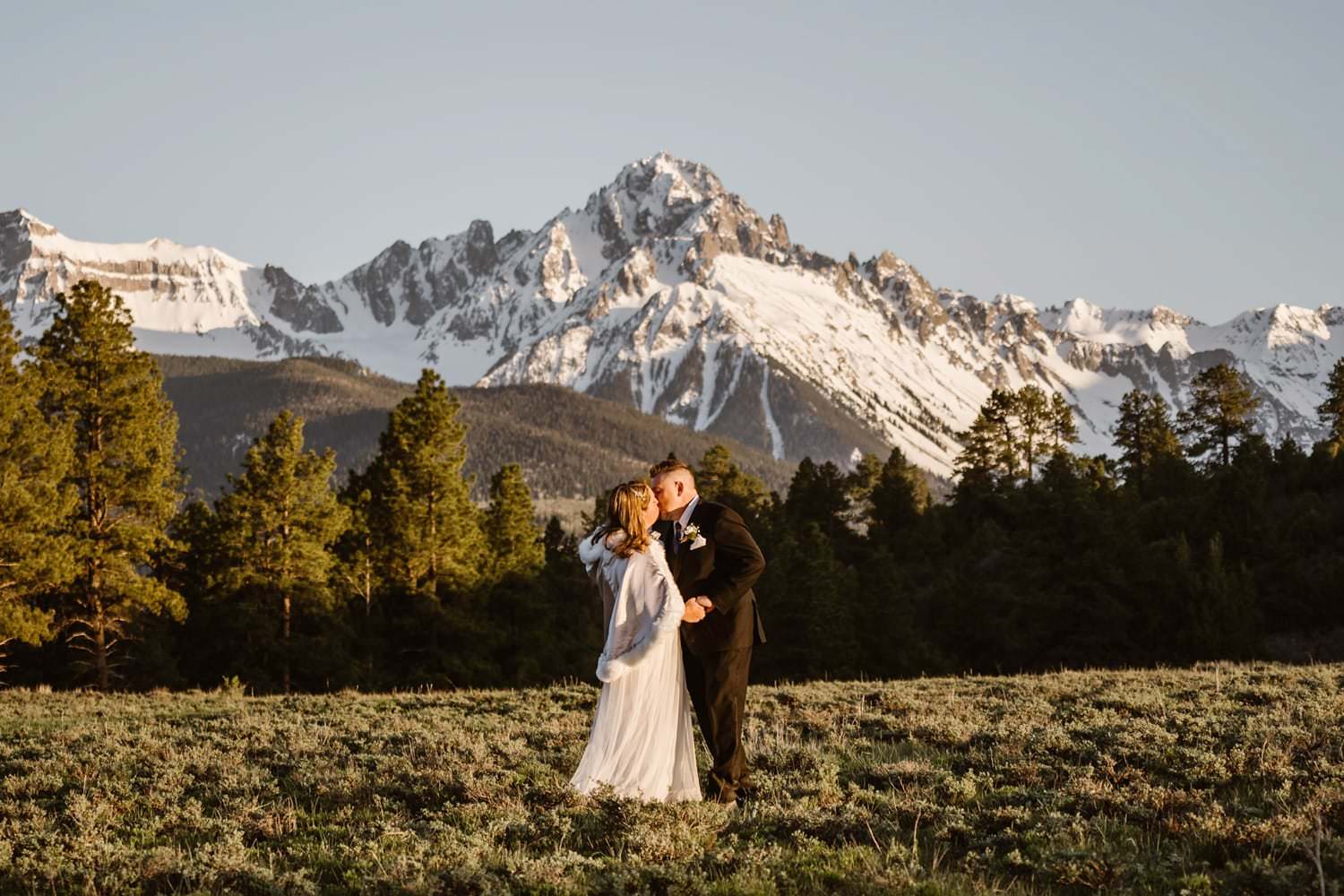 ---
ROCKY MOUNTAIN NATIONAL PARK
Rock Mountain National Park is 415 square miles of alpine visas, gushing waterfalls, stunning rock ledges, open meadows, and breath-taking alpine lakes. With over 300 miles of hiking trails, this park is frequent with visitors and locals year round, which makes it one of the more popular places to elope in Colorado. According to the National Park Service, the cost to getting married in the park is $250 and comes with a reserved ceremony location!
SEASON: Year-round
PERMIT REQUIREMENTS – Yes
---
GREAT SAND DUNES NATIONAL PARK
Surprise! Did you know that Colorado is home to the tallest sand dunes in North America? The Great Sand Dunes are surrounded by mountains and make the perfect backdrop for couples looking for a fun boho vibe. This national park is perfect for couples looking to walk among the stars on moonless nights and catch your favorite galaxies on their elopement day!
SEASON: Year-round
PERMIT REQUIREMENTS – Yes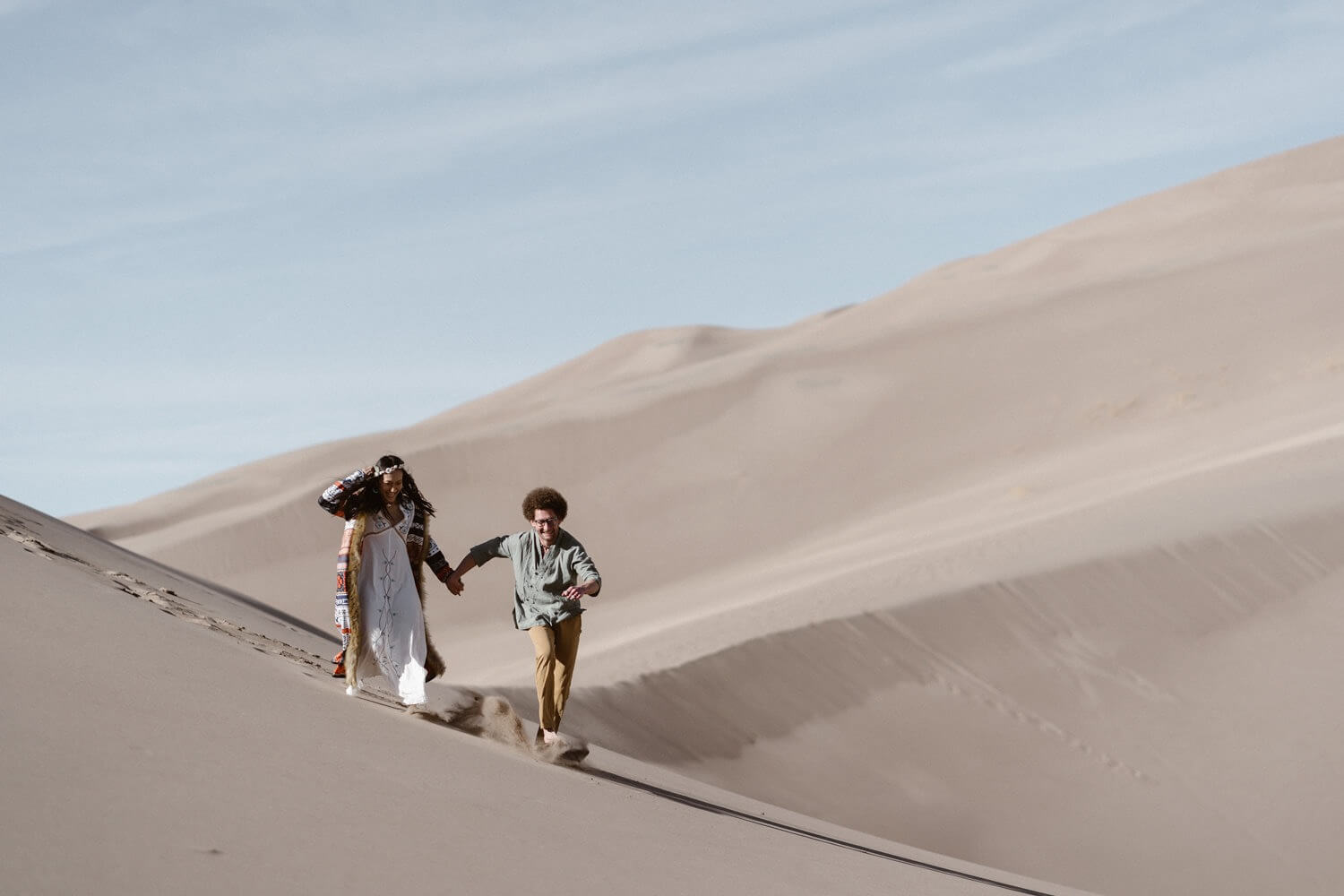 ---
TELLURIDE
Telluride sits at the head of a box canyon in an old mining town. This town is known for their skiing and yearly film and bluegrass festivals. This is a great place for couples to set up camp for hiking elopements in the area. A true Colorado town through and through!
SEASON: Year-round
PERMIT REQUIREMENTS – None
---
LOVELAND PASS
Loveland pass sits at over 11,000 feet and is located in the front range of Colorado. This area is situated perfectly for couples looking for high mountain alpine feel for their Colorado elopement.
SEASON: Summer – Fall
PERMIT REQUIREMENTS – None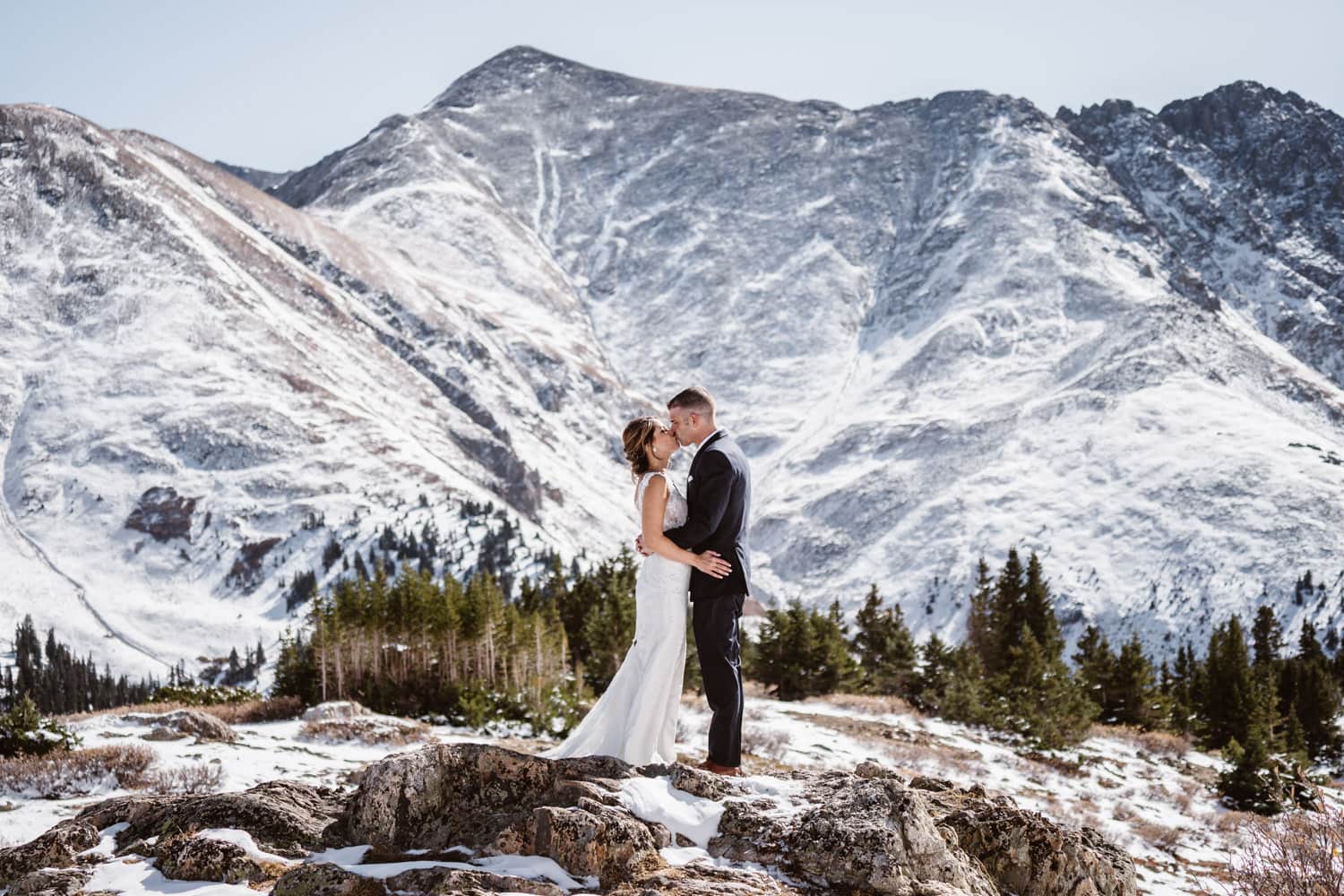 ---
ESTES PARK
Estes Park is the base camp for all things in Rocky Mountain National Park. It is known for its wildlife and is surrounded by miles of jagged peaks, open tundra and beautiful lakes. This is the perfect spot for couples for looking for good food and big views for their elopement!
SEASON: Year-round
PERMIT REQUIREMENTS – Yes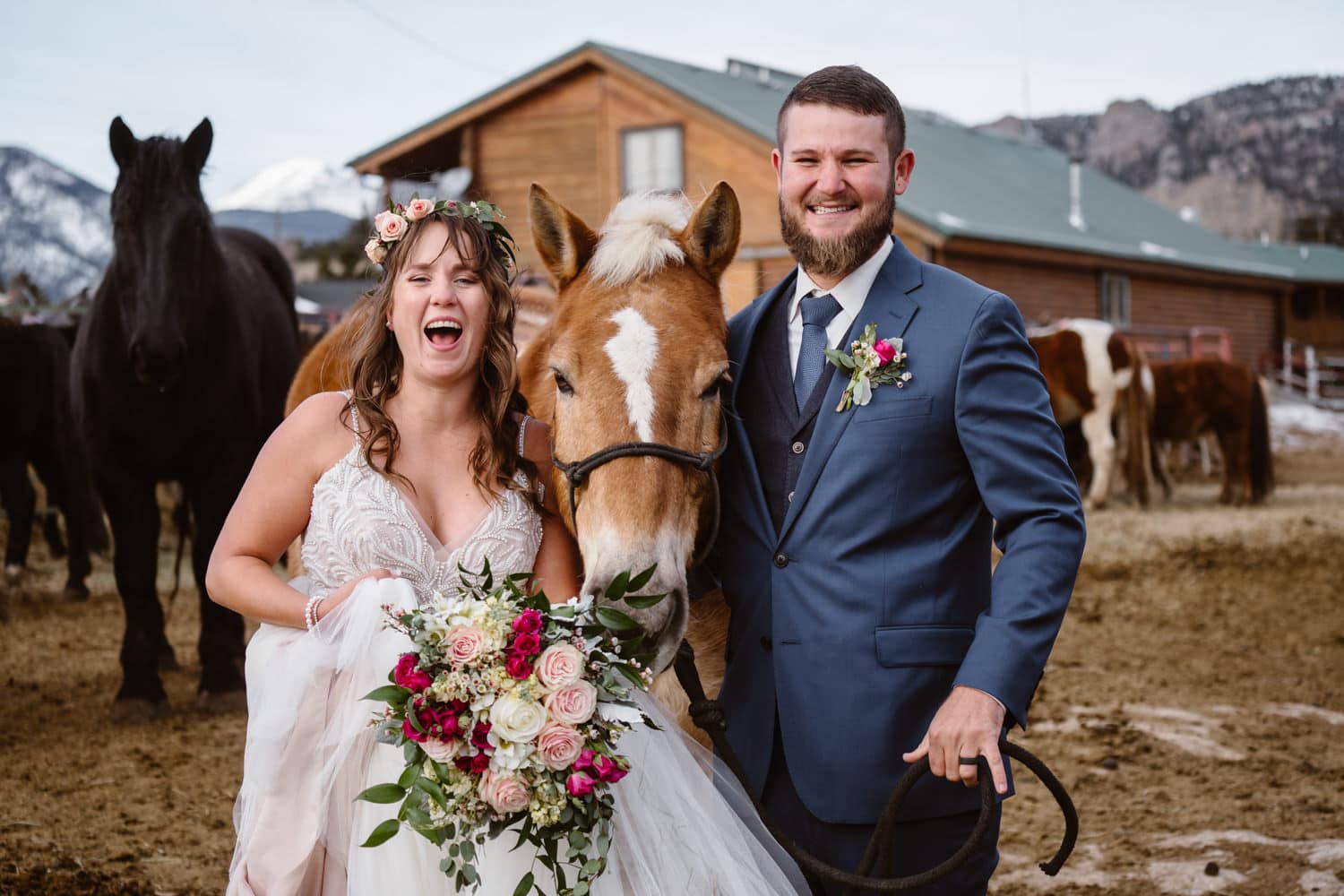 ---
BRECKENRIDGE
Breckenridge is a Colorado town at the base of the Rocky Mountains near Vail. This town is known for its winter skiing, summer hiking and year-round high alpine activities. This area is particularly stunning in summer, where there are countless wildflowers and open vistas for you to explore!
SEASON: Year-round
PERMIT REQUIREMENTS – None
---
VAIL
Vail is right inside the White River National Forest, and is situated perfectly for couples looking for big hiking adventures, skiing or snowboarding elopements. This is one of my favorite areas in Colorado!
SEASON: Year-round
PERMIT REQUIREMENTS – None
---
SAPPHIRE POINT
Sapphire Point Overlook sits at 9,500 feet and overlooks a stunning view of Dillon Reservoir, surrounded by the Gore Range. Sapphire Point is a great spot for year round elopements because you can drive up to the location and rent out two-hour blocks for elopements. This is great choice for couples wanting to include family members! You can make your reservations here.
SEASON: Year-round
PERMIT REQUIREMENTS – Yes
---
MAROON BELLS
Maroon Bells is home to the two most iconic peaks in Colorado. This place is lined with aspen trees and makes the perfect post card elopement location. The bells are stunning in all seasons, especially in fall when the aspen trees turn gold and yellow for all those pumpkin spice latte lovers! You can reserve your ceremony spot at recreation.gov.
SEASON: Summer – Fall
PERMIT REQUIREMENTS – Yes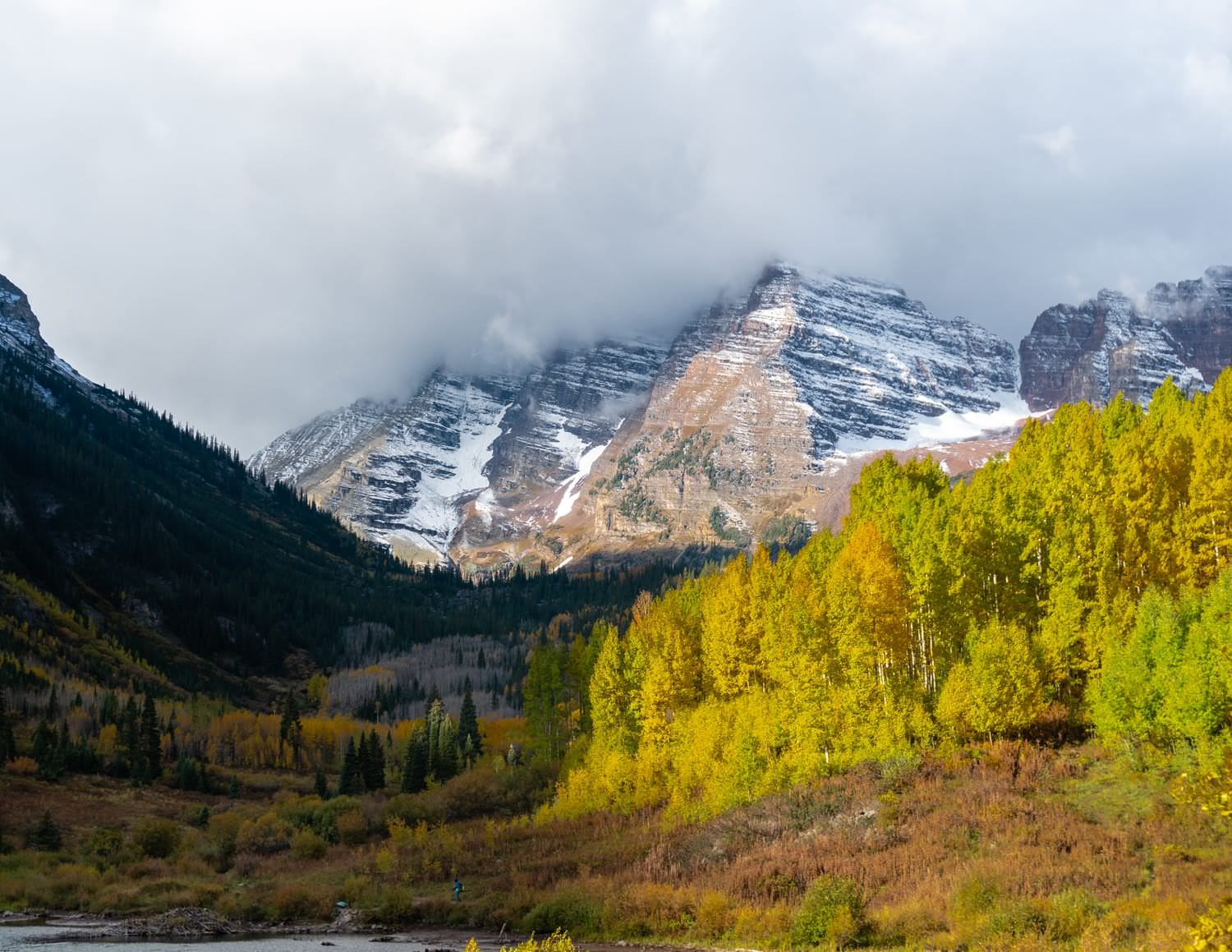 ---
13) HANGING LAKE
The Hanging Lake in Glenwood Canyon is one of the most popular places in Colorado and makes for absolutely stunning elopement. Between the alpine lake, hanging waterfalls, canyon cliffs and nearby Glenwood Springs, there's few other places in Colorado quite as beautiful for a vow ceremony.
SEASON: Year-round
PERMIT REQUIREMENTS – Yes
---
---
WHY SHOULD YOU ELOPE IN COLORADO?
Colorado is one of the few states that can legally marry yourselves. In short, that means you don't need an officiant or even a witness to legally get married in Colorado!
This is great for couples looking to have an intimate ceremony by themselves or for those looking to save money on hiring an officiant. Your only responsible for signing and completing the marriage license within 90 days of your elopement date!
You also have great access some of the most beautiful mountains in the world. You can drive or hike to a your choice of some epic views that are sure to blow you away!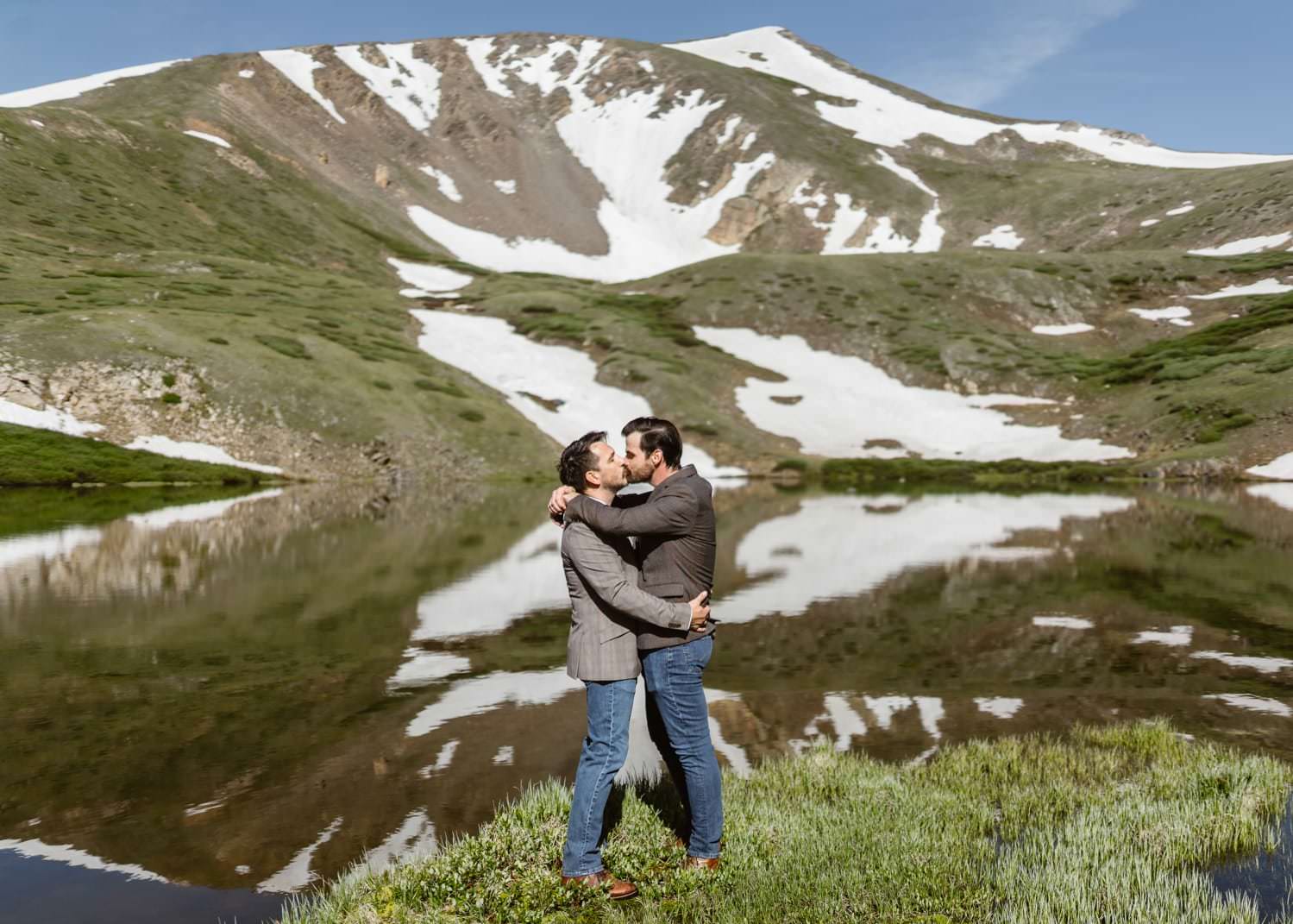 ---
A FEW MORE IDEAS
---
I hope this helps and inspires both of you in finding your perfect Colorado Elopement location! If you have any questions or need any help finding and planning your elopement, I would love to chat about being your Colorado elopement photographer. You can also check out Wandering Weddings for more location spots and a feature photo from me!
---
READY TO GET STARTED? BOOK ME!
---
MORE FROM THE BLOG
---
FOLLOW ON THE GRAM!