Eloping With Family- How to Include Your Family in Your Elopement
Are you thinking about how an adventure elopement would be almost perfect for you and your lover? Do you swoon at the idea of getting married in a beautiful spot out in nature, without stress, ...
A
Are you thinking about how an adventure elopement would be almost perfect for you and your lover? Do you swoon at the idea of getting married in a beautiful spot out in nature, without stress, in an intimate, secluded ceremony? Except, there's just that one big issue! You want your family to be there, and can't imagine getting married without the most important people in your life being involved.
---
---
If this all-too-common dilemma is bothering you as you attempt to plan your wedding or elopement, I've got the best news ever: Family can totally be apart of your adventure elopement! Elopements have evolved a long way's from the idea of just going to the courthouse, and your elopement can be as intimate or as inclusive to family as you want it to be! What makes an elopement special, is that you get to consciously choose how and when to include your family members in a way that makes sense to you. You don't have to bow to social pressure to do anything "traditionally."
HOW TO INCLUDE FAMILY IN YOUR ELOPEMENT WHEN IT'S JUST THE TWO OF YOU
---
• DO A PROCESSIONAL
The bride's father traditionally escorts his daughter down the aisle, but elopements aren't traditional! I've seen brides escorted down by their parents (one on either side), brother or even their son or daughter. There are no rules here as long as you do what feels right to you!
---
• INVITE THEM!
Like I said, just because the traditional image of an elopement brings to mind solitary couples at wedding chapels in Vegas, doesn't mean that's how you have to do it. You can invite whoever and however many people you want to your ceremony. Including a small group of close family members by inviting them to your outdoor elopement is a beautiful, sentimental way to tie the knot.
Just keep in mind that you may have to adapt your location depending on the physical abilities and ages of your guests. I also give couples the option of doing an adventure session before or after their ceremony where we all hike off and do our own intimate photoshoot! This gives couples the best of both worlds. They can still share their day with their family, while also having their own private adventure to look back on with no regrets!
---
•GIVE THEM AN EPIC TOAST SHOUTOUT!
Look, champagne showers aren't just for teams that win the Super Bowl. They have become the norm for newly weds, and I'm here for it! At elopements, I want couples to have authentic and timeless images of their day and having an epic toast is a great reminder to my couples of how amazing their day was. So let's toast to those family and friends so they can relive your joyous moments through your photos!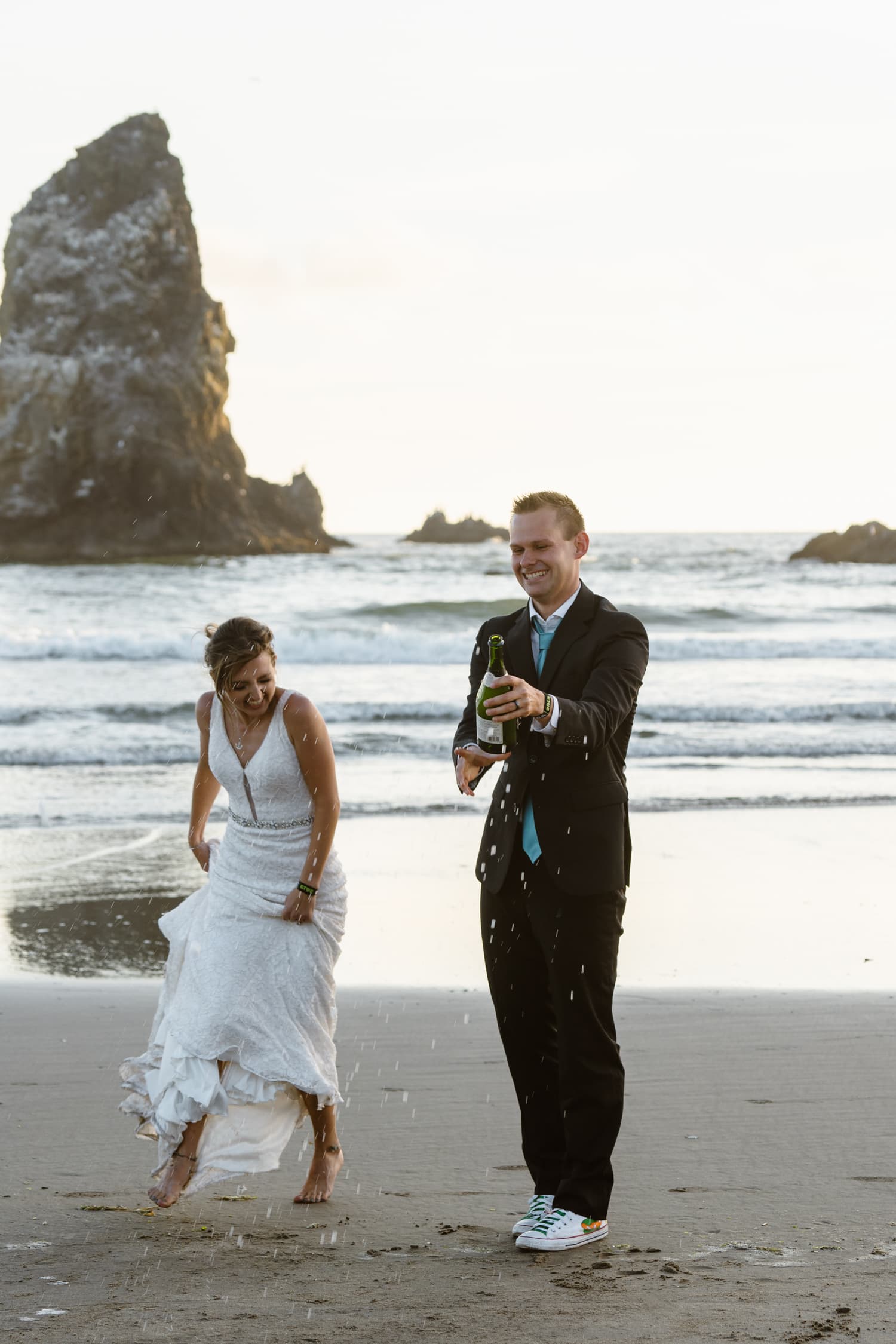 ---
• PUT THEM IN THE ELOPEMENT CEREMONY
You could ask a parent or sibling to be your officiant, thus including them in an integral way while still keeping the number of witnesses small. You may want to ask a sibling or best friend to take on the role of Maid-of-Honor or Best Man and be there standing beside you. An added benefit to this is having someone close to you there to tell some of their favorite stories or help hold your tissues, fix your hair, and offer lots of love and support!
---
• SHOP FOR YOUR WEDDING DRESS TOGETHER
Do you have some special guests that wont be joining you on your elopement? Take special care of these guys by bringing them on your wedding dress hunt! Choose the most uplifting, understanding and loving friends or family members to join you for your bridge tribe. Both of my wife's parents were with her when she made her final dress decision and I went shopping for my suit with my mom. Feel free to invite your favorite beings to join you!
---
• HAVE YOUR FAMILY WITNESS SIGNING YOUR MARRIAGE LICENSE
Your ceremony and favorite adventure are going to be the most memorable part of your wedding day, but you'll still need to handle the legal side of things. And while the requirements for signing a license can very from state, you'll still need some John Hancock's to complete your big day.
You could ask your parents, your best friends, or one of your siblings to do the honor. This is a great way for your family to be a part of your elopement without them stepping on your toes or asking them to do too much!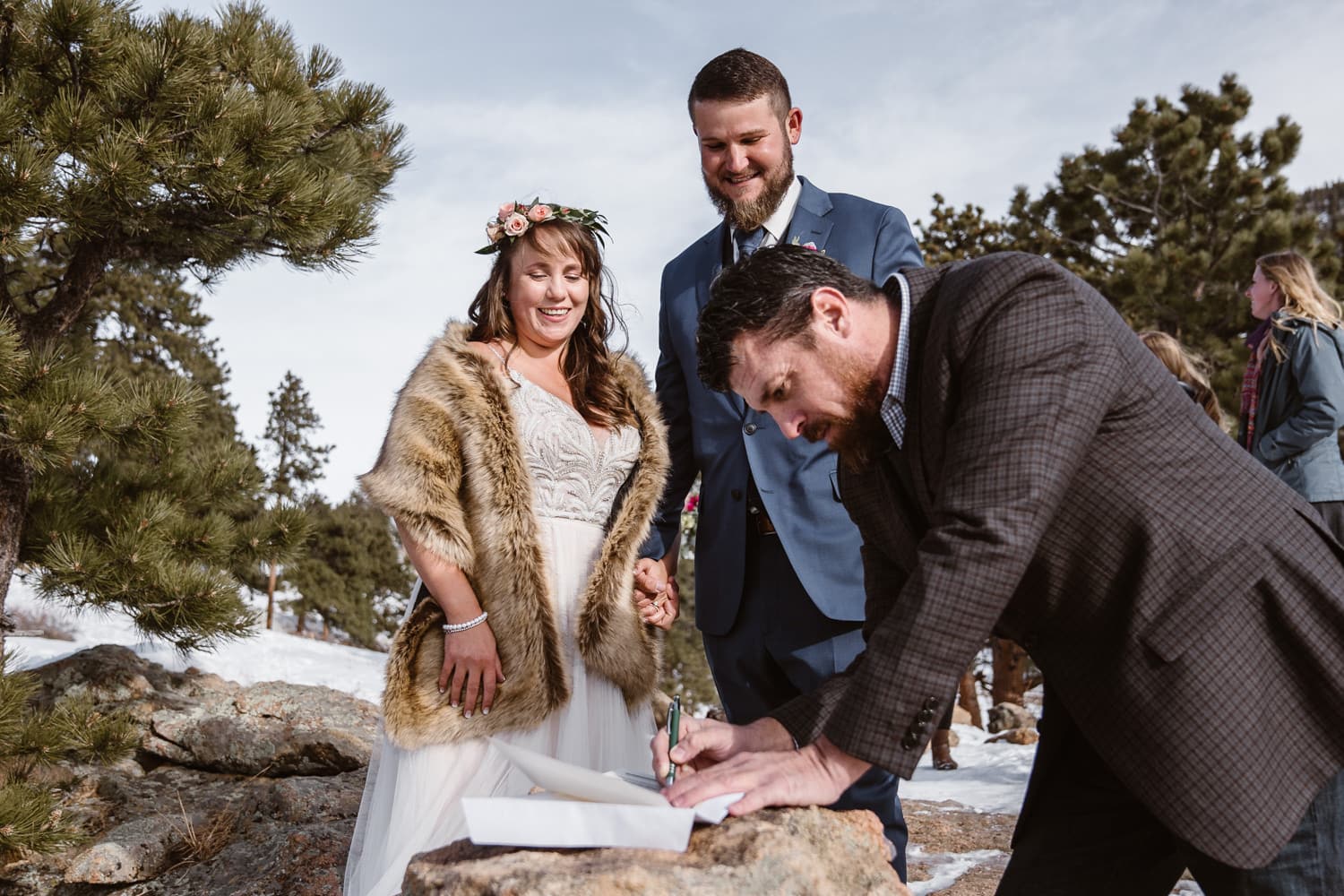 ---
• SEND YOUR FAMILY YOUR SNEAK PEAK PICTURES
Let's face it. You're going to be excited and eager to share some of your favorite elopement photos with your family right away! This is why I give couples next day teasers to share with their friends and family! This is a great way to include your family by sending them some highlight photos before you announce to Instagram, Facebook and the rest of the world!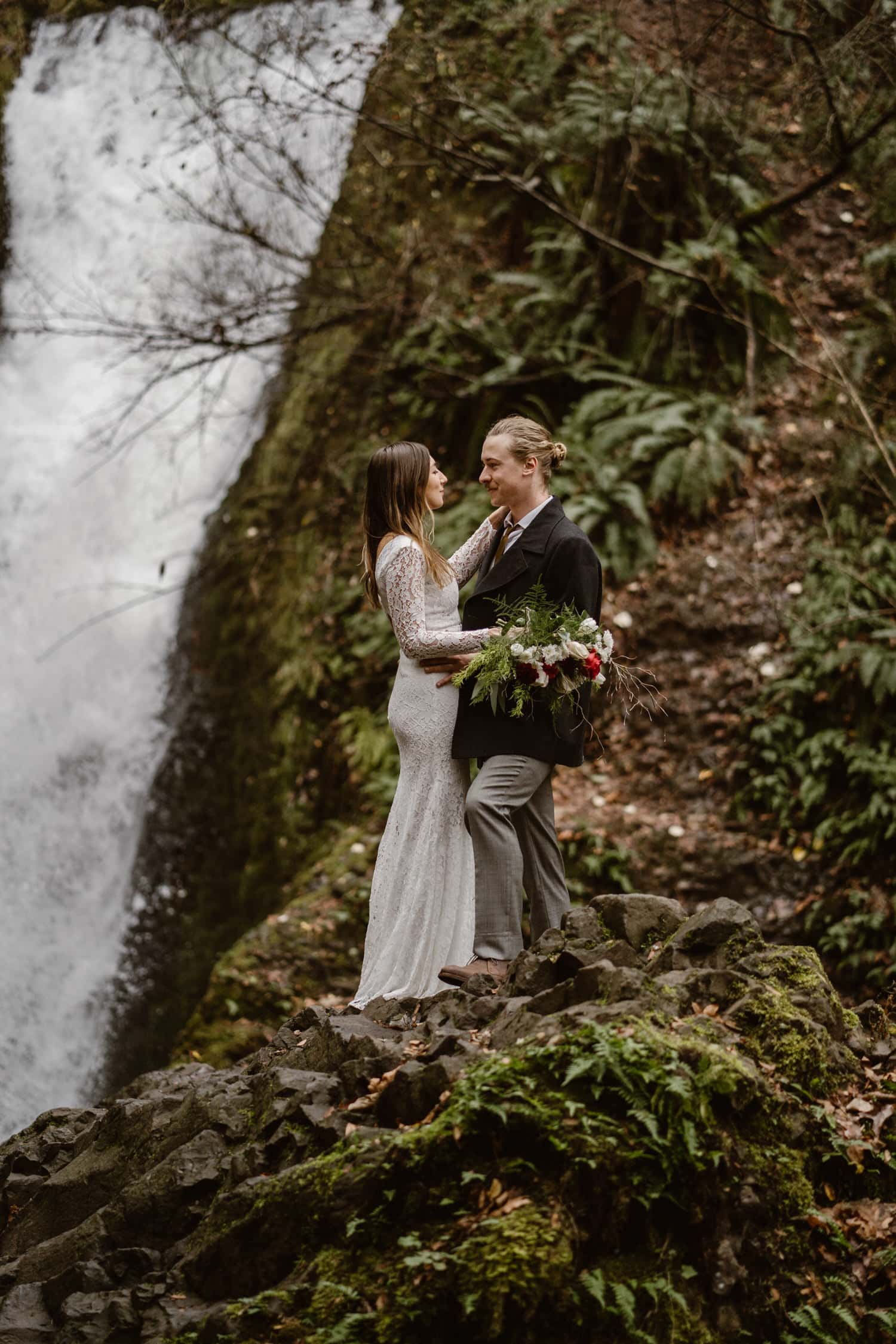 ---
• PLAN A FIRST LOOK WITH FAMILY
If your family is going to be at your small family elopement, then invite them to witness your first look! For some couples, this is their first intimate, emotional experience as a couple on their wedding day and it makes for some amazing reactions that your family would be sure to enjoy! Check out this blog for why you should do a first look!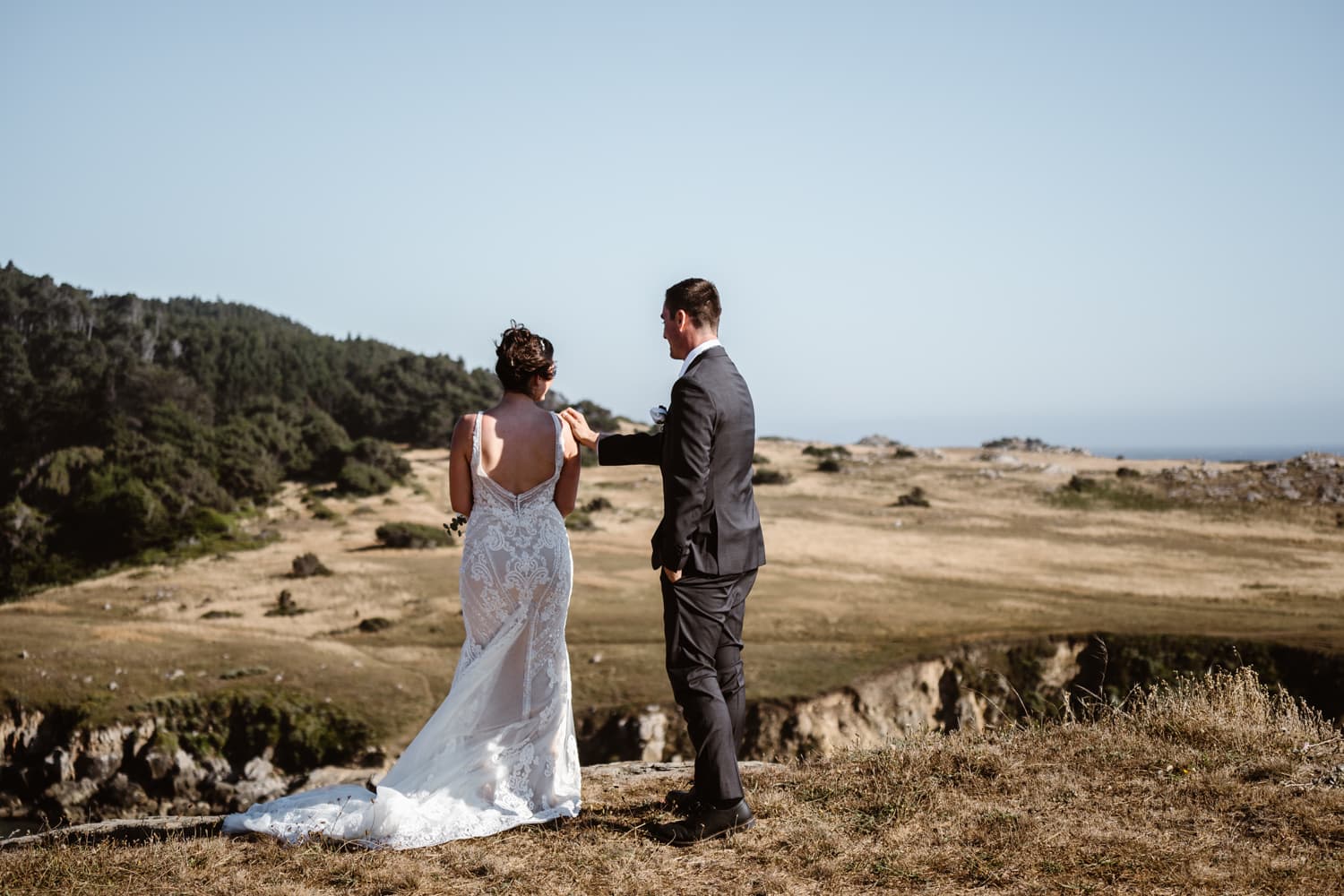 ---
• HAVE A SEPARATE RECEPTION AFTER YOUR ELOPEMENT!
This really is the "best of both worlds" option. Keep your outdoor adventure elopement private and intimate, and then throw either a second ceremony or just a party for family and friends later! (this is the most common option couples go with) Remember, you can do this however you want to! Maybe you want to say your private vows alone in nature with your partner, and then say some more traditional vows in your second family ceremony. Maybe you only want to have one intimate ceremony, but then have your family there to witness your cake cutting and first dance.
---
OTHER THINGS TO CONSIDER
When selecting an elopement destination for your family, you also need to put the accessibility of the place into thought. This requires prior preparation in order to avoid arriving at your desired location only to find it unavailable or inaccessible to those that have special needs or are elderly.
You must consider the season in that location of your ceremony. This can save you from a hazardous wedding! Seasons change based on where you are. You must prepare your family members with suggestions for the proper attire and footwear.
Although elopements are meant to be fun and adventurous, your family might not be as outdoorsy as you. Don't forget to put the safety of your guests at to top of your consideration for your elopement location. You want to ensure each guest is well prepared for being involved in your elopement!
---
Remember, when it comes to including family in your elopement, there's no right and wrong, cut and dry way to do it. You can be as creative as you want and blaze your own trail towards the wedding of your dreams. Just remember to honor your true desires and keep you and your partner's love at the center. What other ways have you thought of to include family in your big day? Share with me in the comments!
---
GET IN TOUCH TO GET STARTED!
---